Allogeneic hematopoietic stem cell transplantation in China: where we are and where to go
Journal of Hematology & Oncology
2012
5:10
Received: 9 February 2012
Accepted: 18 March 2012
Published: 18 March 2012
Abstract
Allogeneic hematopoietic stem cell transplantation (allo-HSCT) is an effective and sometimes the only curative therapy for patients with certain hematological diseases. Allo-HSCT has been practiced in China for approximately 30 years, and great improvements have been made within the past decade, particularly in fields such as the haploidentical HSCT system, strategies to overcome relapse and GVHD, and modified HSCT for elderly patients. This review will describe the current situation and provide a prospective of these unique aspects of Allo-HSCT in China.
Keywords
China
Allo-HSCT
Haploidentical
Relapse
GVHD
Elderly patients
Current status of Allo-HSCT in China
It has been more than thirty years since the first allogeneic bone marrow transplantation was successfully performed in China [1], and during the past decades, substantial progress has been made in the field of allogeneic hematopoietic stem cell transplantation (allo-HSCT).
Currently, there are 104 transplant units certified by China's Ministry of Health and the China Marrow Donor Program. Of these centers, 60% are active and routinely perform HSCT. According to data collected from 50 active centers by the Chinese Hematopoietic Stem Cell Transplantation Registry Group (2007-2011), 5 centers performed more than 100 HSCT cases annually, and approximately 30 centers performed 20-100 cases per year. The total number of HSCT cases in all 50 active centers increased steadily from 1093 cases in 2007 to 1633 cases in 2010 [2]. By the end of 2011, this figure has been greater than 2000 by the preliminary statistics.
The types of donor sources for Allo-HSCT in China are related identical (47.3%), related mismatched/haploidentical (30.8%), unrelated matched (12.1%), unrelated mismatched (7.7%), umbilical cord blood (UCB, 2.2%) and Allo-HSCT accounts for 91% of the total HSCT cases. (Figure
1
) [
2
]. These data are quite different from those reported by the CIBMTR(Center for International Blood and Marrow Transplant Research), which show that autologous HSCT takes up 58% of the total HSCT cases and that unrelated donors comprise nearly half of all the allogeneic HSCT graft sources in the USA. Data on haploidentical HSCT(Haplo-HSCT) cases are not available [
3
]. The distribution of diseases occurring in allogeneic transplant recipients is as follows: acute myeloid leukemia (AML) (34%), acute lymphoblastic leukemia (ALL) (24%), chronic myeloid leukemia (CML) (20%), myelodysplastic syndrome (MDS) (7%), aplastic anemia (AA) (7%), Mediterranean anemia (MIA) (2%), non-Hodgkin's lymphoma (NHL) (3%), and other diseases (2%) (Figure
2
). The proportions of disease types receiving allo-HSCT are similar to those reported by the CIBMTR. However, although the overall number of allo-HSCT cases in CML patients has decreased gradually in recent years, these patients still make up a relatively large proportion of the total allo-HSCT cases (approximately 20%). This is due to the potential accumulated expenses of tyrosine kinase inhibitors for young CML patients as well as the significant survival advantage of allo-HSCT compared with imatinimb treatment for patients with AP CML [
4
].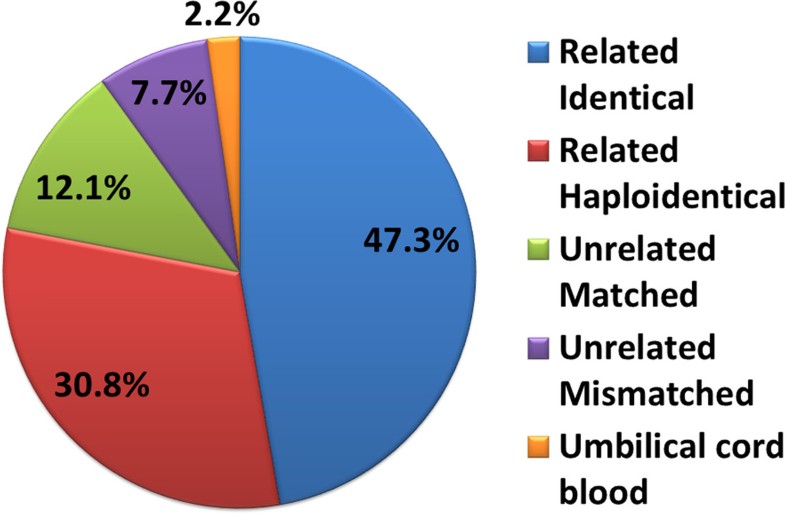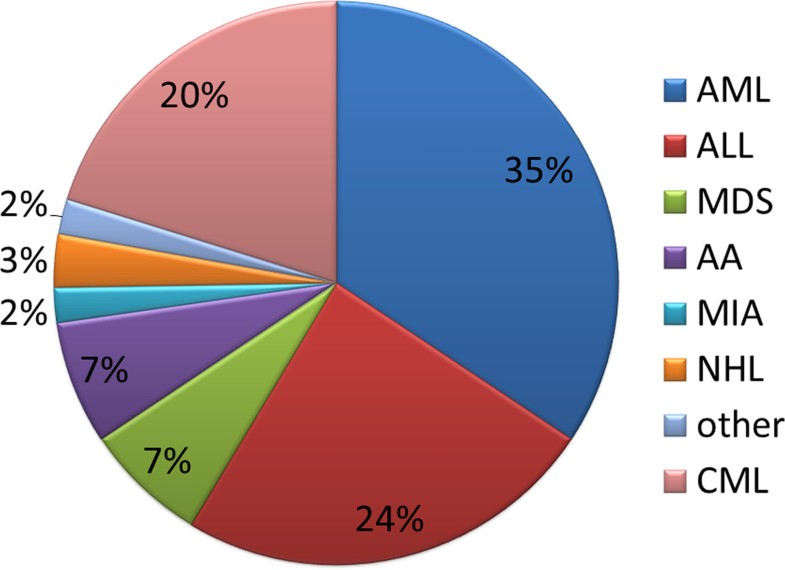 The unique characters of Chinese HSCT system
Though research resources for HSCT in China are limited, for example, HSCT researchers are allotted only 16% of the total financial support administered by the National Science Foundation in hematology, an increasing number of clinical and applied fundamental research studies in HSCT have been published in influential journals or presented orally at the American Society of Hematology (ASH) annual meeting. Also, HSCT in China is not just imitation, there are some characteristic aspects which may contribute to other HSCT programs around the world.
These unique characters of Chinese HSCT system can be divided into four categories: ① Haplo-HSCT system, ② strategies to overcome relapse and ③ GVHD, and ④ modified HSCT for elderly patients. The initiation of multi-center clinical trials and advances in translational research are important for promoting progress in HSCT methods in China.
Prospects for the HSCT in China
As mentioned above, multi-center prospective studies and researches connecting "bench to bed" are essential to promote the development of HSCT in China. Actually, there have been successful multi-center trials conducted in general hematology and molecular diagnostics, such as the prospective study "Molecular Diagnosis and Individualized Treatment of Acute Leukemia" supported by the National High Technology Research and Development Program (Program 863). Nevertheless, many challenges remain in the HSCT field: (1) Compared with many well developed international registries, for example, the European Group for Blood and Marrow Transplantation (EBMT), the Chinese Hematopoietic Stem Cell Transplantation Association must make considerable progress in establishing itself as a leader in clinical trials in addition to its role in data management [2]. (2) Standardization would contribute to the improvement and modification of the entire system by allowing results from multiple centers to be compared. However, standardized practices are associated with more precise diagnoses, risk stratification, and corresponding individualized treatment rather than solitary therapies that vary from center to center. The dissemination of techniques is more difficult from experienced centers to smaller HSCT units due to the complexity of the HSCT system, which requires more experienced doctors and diagnostic technologies. (3) Benefit-sharing mechanisms are essential to the success of multi-center clinical trials. A well-developed system would allow all participating units to access data and analyze results from different angles. On the other hand, some experienced centers or institutes have the responsibility to lead clinical research programs applying for financial support, such as the key programs 973 and 863 of China, and to develop well-organized trials.
Next, two strategies can be employed to promote the connection between basic research and clinical practice in the field of Chinese HSCT. Firstly, Chinese researchers must make significant progress in identifying the underlying mechanisms of well-developed clinical models, such as haplo-HSCT. This unique diagnosis and treatment system in turn provides a perfect opportunity to analyze and compare the differences among clinical and animal models. Secondly, translational researchers must pursue promising cellular or animal experiments. For example, researchers from Jilin University, China, found that IFN-γ promotes graft-versus-leukemia effects without directly interacting with leukemia cells in mice after HSCT [48]. Therefore, it would be very interesting to investigate the potential enhancement of GVL effects in DLI or reduced intensity HSCT in patients by manipulation of IFN-γ.
In summary, it would be very meaningful for Chinese scholars to participate in translational researches of clinical significance, such as immune tolerance in HLA-mismatched HSCT, the distinction between GVHD and GVL, and the association between infection and chronic immunologic imbalance.
Conclusion
China has made substantial progress in the field of allo-HSCT during the past three decades, particularly in the clinical applications and mechanism researches of haplo-HSCT system, strategies to overcome relapse and GVHD, and modified HSCT for elderly patients. With the development of multi-center clinical trials and advances in translational research, these unique fields of allo-HSCT in China will have a promising future and contribute more to the world HSCT system.
Abbreviations
HSCT:

Hematopoietic stem cell transplantation
BMT:

bone marrow transplantation
GVHD:

Graft versus host disease
CIBMTR:

Center for International Blood and Marrow Transplant Research
Allo:

Allogeneic
ATG:

Antithymocyte globulin
G-BM:

G-CSF-primed bone marrow harvest
G-PB:

G-CSF-mobilized peripheral blood stem cell harvest
MRD:

Minimal residual disease
mDLI:

Modified donor lymphocyte infusion
MSCs:

Mesenchymal stem cells
CR:

Complete remission
OS:

Overall survival
Declarations
Acknowledgements
This study was supported by grants from National Natural Science Foundation of China(Grant No. 30971292), Doctoral Fund of Ministry of Education of China(Grant No. 20110001110039), Natural Science Foundation of Beijing(Grant No. 7122193).
Authors' Affiliations
(1)
Peking University People's Hospital, Peking University Institute of Hematology, Beijing Key Laboratory of Hematopoietic Stem Cell Transplantation, Beijng, China
Copyright
© Lv and Huang; licensee BioMed Central Ltd. 2012
This article is published under license to BioMed Central Ltd. This is an Open Access article distributed under the terms of the Creative Commons Attribution License (http://creativecommons.org/licenses/by/2.0), which permits unrestricted use, distribution, and reproduction in any medium, provided the original work is properly cited.