piRNA involvement in genome stability and human cancer
Journal of Hematology & Oncology
2015
8:38
Received: 19 November 2014
Accepted: 31 March 2015
Published: 21 April 2015
Abstract
PIWI-interacting RNAs (piRNAs) are a large family of small, single-stranded, non-coding RNAs present throughout the animal kingdom. They form complexes with several members of the PIWI clade of Argonaute proteins and carry out regulatory functions. Their best established biological role is the inhibition of transposon mobilization, which they enforce both at the transcriptional level, through regulation of heterochromatin formation, and by promoting transcript degradation. In this capacity, piRNAs and PIWI proteins are at the heart of the germline cells' efforts to preserve genome integrity. Additional regulatory roles of piRNAs and PIWI proteins in gene expression are becoming increasingly apparent.
PIWI proteins and piRNAs are often detected in human cancers deriving from germline cells as well as somatic tissues. Their detection in cancer correlates with poorer clinical outcomes, suggesting that they play a functional role in the biology of cancer. Nonetheless, the currently available information, while highly suggestive, is still not sufficient to entirely discriminate between a 'passenger' role for the ectopic expression of piRNAs and PIWI proteins in cancer from a 'driver' role in the pathogenesis of these diseases. In this article, we review some of the key available evidence for the role of piRNAs and PIWI in human cancer and discuss ways in which our understanding of their functions may be improved.
Keywords
Transposable ElementGermline Stem CellArgonaute ProteinPIWI ProteinSomatic Insertion
Transposon mobilization and genome instability in cancer
As most cancers stem from the accumulation of mutations, genome instability, defined as a propensity to have mutations, is an 'enabling characteristic' of tumor cells [1,2]. There are multiple sources of genome instability in cancer, ranging from exposure to environmental genotoxic substances, to endogenous generation of reactive species of a metabolic origin, resulting in DNA damage. In addition, the human genome carries a plethora of potential insertional mutagens in its own architecture, in the form of transposable elements (TEs) or 'jumping genes'. While sequences originating from TEs account for a staggering 45% of the entire human genome, only a relatively small set of 80–100 transposable elements are still complete and capable of transposition [3].
The impact of TE mobilization on human cancer has only recently become measurable, thanks largely to progress in the field of high-throughput sequencing technologies. Evolution has endowed cells with a complex arsenal of counter-measures to keep potentially harmful mobilization of TEs in check. One such strategy is based on the action of specialized ribonucleoprotein (RNP) complexes, at the core of which lie members of the PIWI clade of Argonaute proteins and the small, non-coding piRNAs associated with them. While research in recent years has succeeded in unraveling several details of PIWI-interacting RNAs (piRNAs) biogenesis and function in transposon silencing, uncertainties remain on other aspects of their fascinating biology, such as the scope of their function in post-transcriptional regulation of gene expression and their suggested role in human cancer.
This article reviews the intersected fields of piRNA and transposon biology and discusses some of the still rather incomplete evidence in favor of a role of the PIWI/piRNA axis in human cancer.
Retrotransposons and genome instability
Guardians of genome integrity: PIWIs and piRNAs
PIWI and piRNA biogenesis and mechanism of action
Several layers of control stem mobilization and spreading of transposons in normal cells. Different stages of a retrotransposon's life cycle are targeted by such control mechanisms: the exonuclease Trex1, which is also involved in cell response to retroviral infection, degrades single-stranded cDNA deriving from retrotransposons, while the APOBEC3 cytidine deaminase family inhibits retrotransposition through a variety of molecular processes [54] (reviewed in [24]). In addition to these mechanisms, studies during the last decade uncovered how the cell leverages a complex level of RNA-based control strategies to inhibit mobile elements at the early stages of transcription as well as post-transcriptionally.
The functional architecture of the PIWI/piRNAs axis shows similarities with other two well-characterized small, non-coding RNA-based regulatory pathways, miRNAs and siRNAs, chiefly among them the role of the RNA component as a specificity factor through base pairing, in the context of a RNP effector complex that includes members of the AGO family of proteins. Biogenesis sets piRNAs apart from the other families of small, non-coding RNAs: while double-stranded or stem-loop precursors of siRNAs and miRNAs are processed by the RNAse III Dicer, piRNAs are mostly transcribed as large (up to 200 kb) single-stranded precursors, which are processed independently from Dicer. In addition, piRNAs form functional complexes exclusively with members of the PIWI clade of Argonaute proteins.
The piRNAs of Drosophila and mice can be grouped in three classes according to their origin: 1) repeat-associated piRNAs derived from intergenic loci, called piRNA clusters, that are enriched in transposon fragments in Drosophila, zebrafish, and in a subset of piRNA clusters in mice; 2) mRNA-derived piRNAs derived from the 3′UTR of mRNAs; and 3) long, non-coding RNA-derived piRNAs [55]. The biogenesis and functions of repeat-associated piRNAs are much better understood than the other two classes (reviewed in [55,56]).
In the simplest scenario, Drosophila gonad somatic cells, the primary transcript is first cleaved, probably by the riboendonuclease Zucchini. The 3′ fragment is incorporated in PIWI proteins and trimmed to a final length of ~25 nt by a 3′ to 5′ exonuclease. The 5′ end residue of the piRNA incorporated in PIWI shows a strong bias for uridine residues, while the 2′ hydroxy group at the 3′ end is methylated by the enzyme Hen1. The final length of piRNAs is likely dictated by the extent of protection from exonuclease trimming, as each PIWI protein binds a subpopulation of piRNAs with slightly different modal sizes (25.7, 24.7, and 24.1 nt for Piwi, Aubergine (Aub), and AGO3, respectively) [57]. The PIWI/piRNA complex enters the nucleus, is targeted to actively transcribed nascent transposon by recognition of sequences complementary to its piRNA component, and inhibits further transcription by recruiting histone methyltransferases, which will lead to the establishment of transcriptionally silent heterochromatin [58].
In
Drosophila
germ cells, this piRNA-mediated inhibition of transposon mobilization is amplified through the 'ping-pong' mechanism (Figure
1
). Primary piRNAs, antisense to transposons, are incorporated in the Aub PIWI protein and target complementary transposon RNA sequences in the cytoplasm. Aub cleaves transposon RNA between residues complementary to the 10th and 11th piRNA residues. The resulting 3′ fragment of the transposon RNA is incorporated in AGO3, another PIWI protein, trimmed and modified with a 2′ O-methylation, thus forming a secondary piRNA, which will therefore begin with ten residues complementary to the first ten residues of the primary piRNA, with an adenosine as its tenth residue complementary to the first uridine residue of the primary piRNA. When the AGO3-secondary piRNA complex targets antisense strand piRNA cluster transcripts, it will produce new piRNAs identical to primary piRNAs, which will be incorporated in Aubergine complexes, perpetuating the cycle. This mechanism degrades transposon RNA while amplifying the pool of piRNA/PIWI complexes that can inhibit its expression at the transcriptional and post-transcriptional levels (reviewed in [
55
]).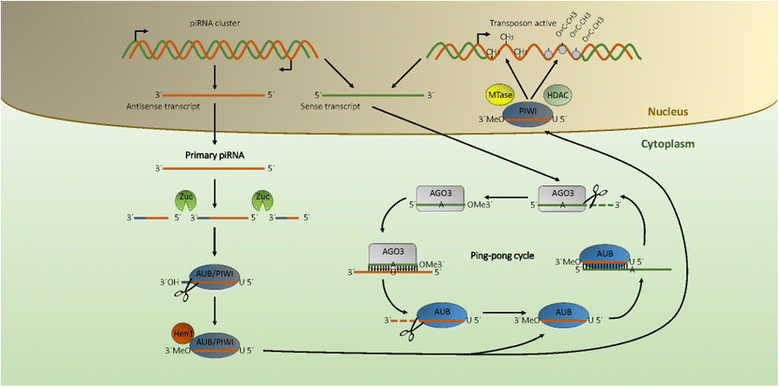 In mammals, piRNA/PIWI mechanisms display even more variety. The earliest piRNA population, bound to MILI and MIWI2, inhibits transcription of transposons independently of cleavage activity and fades away soon after birth [59]. A mechanism of amplification closely resembling Drosophila ping-pong is carried out in prenatal murine testis by the PIWI protein MILI and provides secondary piRNAs bound by MIWI2 [60]. Post-natally, two populations of piRNAs are found in pre-pachytene and pachytene spermatocytes, respectively. The former derives from 3′UTR regions of mRNAs, while the latter, an extremely abundant population of short RNAs, stems from lncRNAs. While genetic ablation experiments show that both these piRNA classes are required for correct spermatogenesis, their molecular function remains a mystery. These very abundant piRNAs do not bear any complementarity to transposable elements, suggesting that they might have a different molecular target. A recent report suggests that pachytene piRNAs and MIWI target up to 40% of mRNAs in elongating spermatids, leading to their deadenylation and degradation during spermiogenesis [61].
Further evidence of the wide scope of the PIWI/piRNA-mediated regulation of gene expression comes from studies in simpler organisms. In Caenorhabditis elegans, piRNA-like molecules, called 21U RNAs, are at the center of a complex sequence-scanning system that enables cells to detect non-self sequences such as mobile elements or, occasionally, transgenes and suppresses their expression. This system relies on the production of a large population of secondary siRNAs: upon recognition of a non-self mRNA by 21U RNAs, in a complex with the PIWI protein PRG-1, the so-called 22G RNAs are produced by an RNA-dependent RNA polymerase, using the foreign RNA as template [61-64]. These secondary siRNAs target an effector Argonaute protein, called WAGO-9, to complementary sequences (probably nascent transcripts) in the nucleus, where heterochromatin proteins, DNA methylases, and other factors are recruited to the site of transcription through interactions with WAGO-9, contributing to silencing of the non-self sequences. An opposing scanning system exists, which guarantees the expression of 'self' mRNAs. The sequence diversity of 21U RNAs is such that they could conceivably target virtually the entire transcriptome, similarly to mammalian 'pachytene' piRNAs: neutralizing their inhibitory effect, yet another group of Argonaute proteins (CSR-1, ALG-3, and ALG-4) forming complex with a separate group of 22G and 26G RNAs promote the proper expression of the genes required for germline development and maintenance [65]. Amazingly, such positive regulators of small RNA/Argonaute complexes are packed in the sperm and transmitted to the zygote, thus providing a vehicle for trans-generational transmission of epigenetic information [65] (reviewed in [66]). Ciliated protozoa also show evidence of genome-scanning mechanisms based on small RNAs that share piRNA features. These scanning RNAs (scnRNAs) regulate programmed DNA elimination, the process by which extensive tracts of DNA are removed from the genome of the haploid micronuclei when they conjugate to form 'somatic' macronuclei. In Tetrahymena and Paramecium, scRNAs mark the DNA sequences that are designated for elimination, while in Oxytricha trifallax, piRNAs mark genomic sequences to be retained [67,68].
In addition to chromatin silencing, piRNAs control transposon and mRNA expression in the cytoplasm through degradation and possibly through translational inhibition and intracellular localization (reviewed in [69]). Close to one third of human mRNAs carry transposon-derived sequences in their 3′UTR, making them potential targets for PIWI/piRNA complexes [70]. During maternal nanos mRNA elimination in Drosophila early development, piRNAs complementary to regions of the 3′UTR and components of the piRNA pathway are required for its deadenylation and degradation [71]. The ability of transposon-derived sequences to induce instability to reporters has also been shown in mammalian systems [72]. These evidence of the ability of the piRNA surveillance system to degrade mRNAs and the pervasive diffusion of transposon sequences in the human genome should be taken into account when considering the possible role of ectopically expressed PIWI proteins and piRNAs in human cancer.
PIWI, piRNAs, and cancer
PIWI was originally discovered as a factor required for the maintenance of germline stem cells [73]. Members of the PIWI clade Argonaute are expressed in several stem cell populations across organisms and tissues, most robustly in the male germline in adult mammals (reviewed in [74]). Additionally, PIWIs are expressed in a large number of human cancers, of both germline and somatic origin, such as seminomas, multiple myeloma, and prostate, hepatocellular, breast, gastrointestinal, ovarian, and endometrial cancer, among others, as well as murine breast tumors, rhabdomyosarcoma, and medulloblastoma [75-78].
As it is often the case, the question arises of whether such findings point to an active role of PIWI in carcinogenesis, as opposed to representing a mere byproduct of dysregulated gene expression in cancer. Even though the field suffers from a dearth of functional studies, fairly solid correlation between expression of PIWI in cancer and a record of poorer clinical outcome suggest an impact on the biology of tumors. The expression of PIWI proteins in gastric, colorectal, breast, and cervical cancer, soft tissue sarcoma, adenocarcinoma of the pancreas, hepatocellular carcinoma, glioma, and esophageal squamous cell carcinoma correlates with a significant worse prognosis [78-86] (reviewed in [87]).
The mechanisms through which ectopic expression of PIWI affects the clinical outcome of cancers are largely unexplored. In one case, expression of PIWIL2 in three different cell types has been shown to profoundly affect the transcriptome, leading to a marked increase of the antiapoptotic gene Bcl-XL, as well as Stat3 and cyclin D1. These changes in gene expression were accompanied by reduced apoptosis, increased proliferation, and transformation [78]. In contrast, the simultaneous ectopic expression of piRNAs with PIWI proteins has been only documented in a handful of cases. In gastric cancer and multiple myeloma cell lines, piRNA-823 levels affect tumor aggressiveness, albeit, strangely, in opposite directions: in gastric cancer cells, piRNA-823 has an overall tumor suppressor activity, while in multiple myeloma, it promotes cancer development, suggesting perhaps functional interactions with cell-specific factors [77,88].
Overall, the current picture of the role of the piRNA/PIWI axis in human cancer is probably incomplete, mirroring the gaps in our grasp of its physiological role. If the sole function of piRNAs was to inhibit the mobilization of transposons, one would expect the ectopic expression of PIWI proteins in cancer to exert an overall antagonistic effect to tumor development and progression. This is not the case in the overwhelming majority of instances in which levels of PIWI have been perturbed in tumor cells: ectopic expression of PIWI actually imparts a more aggressive cancer behavior, and its inhibition reverses such phenotype. One can envision a scenario in which widespread demethylation leads to both activation of transposons and expression of PIWI proteins, or, alternatively, one in which the expression of PIWI proteins is somehow reactive to the activation of transposons through some unknown mechanism [89,90]. Either way, once expressed in the wrong cell types and at the wrong developmental time, PIWI proteins are likely to be engaged not exclusively in the repression of transposon mobilization but also in repressive interactions with RNAs they are not exposed to in germline cells. Post-transcriptional inhibition of gene expression by piRNAs through degradation or translational inhibition could be responsible for the documented tumor-promoting effects. In such a scenario, PIWI/piRNA pro-cancer action would be reminiscent of the oncogenic role of some miRNA-Ago complexes such as miR-155, miR-21, or the miR-17-92 cluster [91-93]. The two modes of action of PIWI/piRNAs, transposon inhibition and post-transcriptional silencing of mRNAs, could still mechanistically be two sides of the same coin, as many mRNAs include extensive transposon-derived sequences [70]. Additionally, it cannot be ruled out at present that PIWI's and possibly piRNAs' role in cancer could be completely decoupled from control of transposon mobilization. As mentioned in the previous section, PIWI, piRNAs, and the Argonaute proteins WAGO-9 and CSR-1 and their cognate 22G and 26G RNAs are intertwined in a complex system that allows C. elegans to differentiate between 'self' from 'non-self' RNA [65]. Are mammalian PIWIs and piRNAs also part of an as yet undiscovered mammalian mechanism of vigilance on the proper expression of 'self' RNA, and is the derangement of such system somewhat at play in cancer? While vertebrates seem to lack 22G and 26G RNAs, the incredibly high number and sequence diversity of the 'pachytene' piRNAs associated to MIWI in mouse provides a repertoire of small, non-coding RNA that could, in principle, target the entire human transcriptome through imperfect complementarity. It is tempting to speculate that the improper activation of such a far-reaching apparatus normally devoted to the monitoring of proper gene expression in the germline may have profound consequence for the biological behavior of cancer.
What are the broader implications of PIWI and possibly piRNA expression in cancer cells? One suggestion comes from a Drosophila model of brain cancer: the ablation of the l(3)mbt gene, a member of the polycomb group (PcG) of proteins, leads to the development of brain tumors. Expression profiling revealed a 'l(3)mbt tumor signature' of 102 upregulated genes, which included piwi. Mutation of piwi was sufficient to suppress l(3)mbt malignant growth, providing strong in vivo evidence for its requirement for l(3)mbt tumor formation. Remarkably, 26 out of 102 upregulated genes that constitute the 'l(3)mbt tumor signature' are required for germline development and maintenance. They include vasa and aubergine, which are, like piwi, involved in the piRNA pathway and were able to suppress the l(3)mbt penotype [94]. An extraordinary coordinated ectopic expression of genes normally restricted to the germline has also been observed in the C. elegans 'soma to germline' switch upon suppression of lin-35, an ortholog of RB (retinoblastoma protein), which interacts functionally and associates physically with l(3)mbt, as well as in long-lived mutants of the insulin-like pathway [95,96]. Additionally, long-running efforts in the medical community to identify cancer-specific antigen for immunotherapy have resulted in the identification of tens of genes whose expression is exquisitely restricted to the male germline but becomes ectopically activated in a coordinated fashion in a variety of tumors [97]. The products of these genes have been therefore called cancer/testis (CT) antigens. The common thread of the ectopic, coordinated expression of genes that are normally germline-restricted in somatic cancer has led to the speculation that, by conferring biological features typical of the germline, CT antigens might contribute to the biology of cancer cells [97]. Cellular behaviors observed in gametogenesis, such as immortalization, implantation, and migration, may be seen as corresponding to, respectively, transformation, invasion, and metastasis in the context of cancer, while other phenomena such as global hypomethylation, active angiogenesis, and immune evasion are common to both cell types [97]. In this scenario, PIWI proteins ectopically expressed in tumors could contribute to confer features of actively replicating germline stem cells to cancer stem cells.
Conclusions and perspectives
Seventeen years after the discovery of PIWI and eight after that of piRNAs, the extent of their role in cancer, suggested by ectopic expression and correlation to clinical outcome, is still far from being clearly understood. Addressing the following questions would go a long way in substantially advancing this area of cancer biology:
1)

Are piRNAs ectopically expressed in cancer? While PIWI protein expression in cancer is quite extensively documented, piRNAs have been detected in a handful of cases. These include a Drosophila model of brain tumor and human multiple myeloma and gastric cancer samples [77,88,94]. The biogenesis of piRNAs is a complex process that needs numerous factors, the expression of many of which has not been studied in most cancers where PIWI is expressed. In the absence of piRNAs, PIWI could perhaps bind other RNAs or engage in functional interactions of a radically different kind.

2)

Which genes are regulated by piRNAs and PIWI proteins in cancer? The understanding of the biological functions of any trans-regulator of gene expression is greatly advanced by the identification of its functional targets. The field of RNA-binding protein and miRNA-Argonaute biology has benefited from addressing this question through experimental approaches such as high-throughput sequencing of RNA isolated by crosslinking immunoprecipitation (HITS-CLIP) or crosslinking, ligation, and sequencing of hybrids (CLASH) [98,99]. HITS-CLIP for Mili and Miwi in mouse testis reached the unexpected conclusion that Miwi binds mRNAs in the absence of a piRNA guide [100]. Can this finding be confirmed in cancer? Does the identity of genes regulated by ectopically expressed PIWI proteins point to a specific cellular process?

3)

Is the ectopic expression of PIWI proteins and piRNAs driving cancer development and progression? More extensive studies in vertebrate animal models are necessary to address this fundamental question. In Drosophila, the requirement of piwi for brain tumor formation has been elegantly demonstrated in l(3)mbt, piwi double mutants. Establishing similar models of ectopic expression of PIWI and piRNAs in mammalian model organisms will provide necessary information on their capability to exert a causative role in the initiation and progression of neoplasms.
Authors' Affiliations
(1)
Gene Expression Laboratory, Centre for Integrative Biology (CIBio), University of Trento, Trento, Italy
Copyright
© Moyano and Stefani; licensee Biomed Central. 2015
This is an Open Access article distributed under the terms of the Creative Commons Attribution License (http://creativecommons.org/licenses/by/4.0), which permits unrestricted use, distribution, and reproduction in any medium, provided the original work is properly credited. The Creative Commons Public Domain Dedication waiver (http://creativecommons.org/publicdomain/zero/1.0/) applies to the data made available in this article, unless otherwise stated.