Allogeneic CD19-CAR-T cell infusion after allogeneic hematopoietic stem cell transplantation in B cell malignancies
Journal of Hematology & Oncology
2017
10:35
Received: 19 October 2016
Accepted: 19 January 2017
Published: 31 January 2017
Abstract
Background
Allogeneic hematopoietic stem cell transplantation (allo-HSCT) is considered the cornerstone in treatment of hematological malignancies. However, relapse of the hematological disease after allo-HSCT remains a challenge and is associated with poor long-term survival. Chimeric antigen receptor redirected T cells (CAR-T cells) can lead to disease remission in patients with relapsed/refractory hematological malignancies. However, the therapeutic window for infusion of CAR-T cells post allo-HSCT and its efficacy are debatable.
Main body
In this review, we first discuss the use of CAR-T cells for relapsed cases after allo-HSCT. We then review the toxicities and the occurrence of graft-versus-host disease in relapsed patients who received CAR-T cells post allo-HSCT. Finally, we review clinical trial registrations and the therapeutic time window for infusion of CAR-T cells post allo-HSCT.
Conclusions
The treatment of allogeneic CAR-T cells is beneficial for patients with relapsed B cell malignancies after allo-HSCT with low toxicities and complications. However, multicenter clinical trials with larger sample sizes should be performed to select the optimal therapeutic window and confirm its efficacy.
Keywords
CAR-T cells
Allogeneic hematopoietic stem cell transplantation
Lymphoid malignancies
Background
Relapse is common after allogeneic hematopoietic stem cell transplantation (allo-HSCT) for hematological malignancy. The treatment of relapsed lymphoid malignancy after allo-HSCT is challenging, as evidenced by the low rate of remission after chemotherapy and poor long-term survival rate [1–3]. Donor lymphocyte infusion (DLI) is one of the main methods used to prevent relapse after allo-HSCT, as it results in good outcomes; however, the results vary for different hematological diseases [4]. Donor-derived T and natural killer (NK) cells emerge after transplantation and control leukemia, mainly through the graft-versus-leukemia (GVL) effect. However, DLI and donor-derived T and NK cells have limited efficacy in preventing or treating disease relapse after allo-HSCT and may cause life-threatening graft-versus-host disease (GVHD), associated with infusion of a high number of T cells in lymphoid malignancy [5–7]. Clinically significant acute GVHD develops in approximately one third of patients who receive DLI, and GVHD is the main contributor to the 6 to 11% treatment-related mortality rate for DLI [8]. Therefore, new treatment strategies are needed to improve the outcomes of higher-risk patients in the context of post-transplantation intervention.
Chimeric antigen receptors (CARs) are fusion proteins consisting of an antigen recognition moiety and T cell activation domains (Fig.
1
). T cells can be genetically modified to express CARs and transfused into patients (Fig.
2
). CAR-redirected T (CAR-T) cells offer a new and promising cell-based immunotherapy that can enhance and effectively maintain the antitumor GVL response after transfusion into patients without major histocompatibility complex restriction; treating patients with CAR-T cells can result in the remission of refractory/relapsed hematological malignancies [
9
–
13
]. Greater, more potent patient responses have been achieved using CAR-T cells than with therapeutic monoclonal antibodies and related approaches [
14
].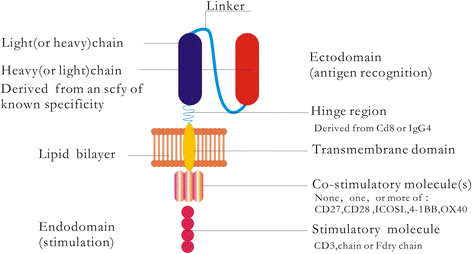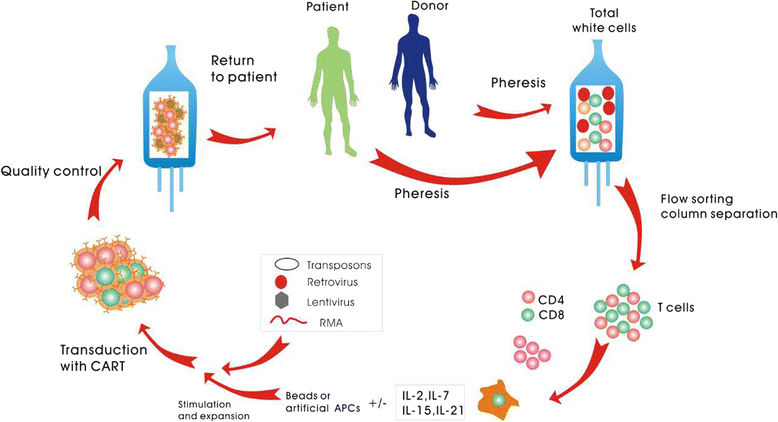 Although the use of CAR-T cells for the treatment of refractory/relapsed hematological malignancies has been shown to result in good outcomes, it is unclear whether donor-derived CAR-T cells can be infused after allo-HSCT because of the associated toxic effects and risk of GVHD, which can lead to death [15]. In this review, we first discuss the use of CAR-T cells to treat relapsed patients after allo-HSCT. Then, we review the occurrence of toxicities and GVHD after allo-HSCT in relapsed patients who were treated with CAR-T cells. Finally, we review the clinical trial registrations and therapeutic time window for the infusion of CAR-T cells after allo-HSCT.
Conclusions
Preventing and treating relapsed disease remains an unmet clinical need after allo-HSCT in B cell malignancies. Some diseases have been successfully treated with allogeneic CAR-T cells without serious complications after allo-HSCT; however, the outcome requires further improvement. As the efficacy of cell therapies is related to the low tumor burden, preemptive therapy should be performed upon the detection of MRD via molecular or immunophenotypic methods [30]. Therefore, the allogeneic CAR-T cell treatment should be standardized for patients with allo-HSCT. The best time for CAR-T cell infusion is between days +55 and +200 after allo-HSCT. Thus, the infusion of CAR-T cells performed immediately or following MRD-positive relapse after allo-HSCT may be the best model because of the limited effect after hematological relapse. Cell therapies should be integrated into routine practice and considered the standard of care. However, the identification of unique tumor antigens that can be targeted with selective T cell therapies is a major challenge.
Why CAR-T cells can attack malignant blasts in some cases but remain paralyzed in others remains unknown. The effects of CAR-T cells are pivotal for the loss of co-stimulatory molecules and the expression of co-inhibitory molecules in tumor immune escape. Sustained inhibitory signaling on T cells by molecules such as TIM-3, LAG-3, PD-1, and CTLA-4 correlates with a stage of T cell exhaustion marked by reduced T cell proliferative potential, effector function, and cytotoxicity [31]. The increase of immune checkpoint proteins expressed in B cell malignancies can lead to resistance to blinatumomab, a bispecific T cell engager monoclonal antibody (CD19/CD3) or CAR-T cells [32]. On the other hand, the use of immune checkpoint inhibitors can improve the complete responses of B cell malignancies [33]. Thus, it is important to achieve sustained tumor immune surveillance and efficient elimination of malignant cells by increasing T cell function and reversing T cell exhaustion. Further identification of biomarkers for CAR-T infusion to improve the outcome is therefore required.
The central questions surrounding CAR-T cell treatment, namely whether they have toxic effects and whether CAR-T cells are sustainable, have hindered its broad clinical application. The choice of effector T cells and the design of CARs must be optimized to improve the effectiveness and limit toxicities [34, 35]. In addition, novel allogeneic procedures aimed at optimizing feasibility and clinical efficacy without significantly increasing the risks of toxicities, and GVHD should also be further explored. A recent study found that the chimeric forms of Notch can serve as a general platform for generating novel cell-cell contact signaling pathways. Multiple synNotch receptors can be used in the same cell to achieve a combinatorial integration of environmental cues. Thus, SynNotch receptors provide extraordinary flexibility in engineering cells with customized sensing/response behaviors to user-specified extracellular cues [36]. Another study showed that CAR-T cells constructed with a synthetic Notch receptor are only armed and activated in the presence of dual antigen tumor cells. Therefore, these T cells show precise therapeutic discrimination in vivo, sparing single antigen "bystander" tumors while efficiently clearing combinatorial antigen "disease" tumors [37]. The CAR-T cell dose must be optimized to obtain the maximum effect with the lowest risks of toxicities and GVHD; however, the standard dose of CAR-T cells requires further exploration.
There are many ways to prevent or treat the relapse of B cell malignancies after allo-HSCT; of these, DLI is the most commonly used. However, the responses to DLI are poor, with high rates of GVHD and non-relapse mortality occurrence for B cell malignancies [5, 38]. Blinatumomab is used to manage relapsed/refractory Ph+ ALL and may be used to treat patients with relapse after allo-HSCT [39]. A patient with Pre-B-ALL relapse who displayed a loss of donor chimerism to 43% and no evidence of GVHD was treated with blinatumomab. The patient achieved remission and remains in remission at 240 days post-transplant with 100% donor chimerism [40]. Three pediatric patients with B-precursor ALL relapse following allo-HSCT received blinatumomab, and rapid MRD-negative CR was achieved without the occurrence of GVHD [41]. Another report showed no response for blinatumomab but that CAR-T cells were effective [20]. Presently, the number of cases in which blinatumomab is used in the treatment of relapsed B cell malignancies after allo-HSCT is small; thus, further study is required [42]. Interestingly, CAR-T can penetrate the blood-brain barrier [43], whereas whether blinatumomab can do so remains unclear. The optimal treatment duration and schedule of blinatumomab for patients with relapse after allo-HSCT is not known. Altogether, compared to the current methods used to prevent or treat relapse after allo-HSCT, allogeneic CAR-T cell therapy is a safer and more feasible approach; however, multicenter clinical trials with larger sample sizes should be performed.
In conclusion, allogeneic CAR-T cells represent an extremely promising tool for the prevention or treatment of relapsed B cell malignancies after allo-HSCT. However, relevant studies are at an early stage, and many crucial questions remain to be answered, such as the mechanism for relapse after CAR-T infusion.
Abbreviations
allo-HSCT:

Allogeneic hematopoietic stem cell transplantation
CAR-T cells:

Chimeric antigen receptors redirected T cells
DLI:

Donor lymphocyte infusion
GVL:

Graft-versus-leukemia
GVHD:

Graft-versus-host disease
CARs:

Chimeric antigen receptors
CLL:

Chronic lymphocytic leukemia
DLBCL:

Diffuse large B cell lymphoma
MCL:

Mantle cell lymphoma
ALL:

Acute lymphoblast leukemia
EFS:

Event-free survival
MRD:

Minimal residual disease
CRS:

Cytokine release syndrome
IL-6:

Interleukin-6
IFN-γ:

Interferon gamma
MHC:

Major histocompatibility complex
PD-1:

Programmed cell death protein-1
CTLA-4:

Cytotoxic T lymphocyte antigen 4
TIM-3:

T cell immunoglobulin mucin-3
LAG-3:

Lymphocyte-activating gene 3
Declarations
Acknowledgements
Not applicable.
Funding
This study was funded by the special foundation for the "1130 project" and the clinical key foundation of the Xinqiao Hospital of Third Military Medical University (No.2016YLC03).
Availability of data and materials
Data sharing is not applicable to this article as no datasets were generated or analyzed during the current study.
Authors' contributions
LJ and ZC wrote the paper. ZJF revised the paper. All authors collected the data, read and approved the final manuscript.
Competing interests
The authors declare that they have no competing interests.
Consent for publication
Not applicable.
Ethics approval and consent to participate
Not applicable.
Open AccessThis article is distributed under the terms of the Creative Commons Attribution 4.0 International License (http://creativecommons.org/licenses/by/4.0/), which permits unrestricted use, distribution, and reproduction in any medium, provided you give appropriate credit to the original author(s) and the source, provide a link to the Creative Commons license, and indicate if changes were made. The Creative Commons Public Domain Dedication waiver (http://creativecommons.org/publicdomain/zero/1.0/) applies to the data made available in this article, unless otherwise stated.
Authors' Affiliations
(1)
Department of Hematology, Xinqiao Hospital, Third Military Medical University, Chongqing, People's Republic of China
(2)
Division of Periodontology, Diagnostic Sciences & Dental Hygiene, and Division of Biomedical Sciences, Herman Ostrow School of Dentistry, University of Southern California, Los Angeles, USA