Erratum to: MIIP remodels Rac1-mediated cytoskeleton structure in suppression of endometrial cancer metastasis
Journal of Hematology & Oncology volume 10, Article number: 163 (2017)
1383 Accesses

3 Citations
Erratum
The original article [1] contains an error whereby Fig. 2D mistakenly displays a duplicate image for the panels, 'si-MIIP#1' and 'si-MIIP#2'.
The correct version of Fig. 2D and its constituent panels can instead be viewed below.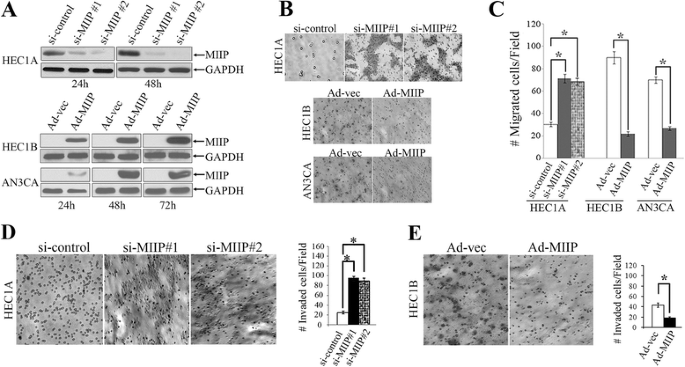 Reference
Wang Y, et al. MIIP remodels Rac1-mediated cytoskeleton structure in suppression of endometrial cancer metastasis. J Hematol Oncol. 2016;9:112.
Rights and permissions
Open Access This article is distributed under the terms of the Creative Commons Attribution 4.0 International License (http://creativecommons.org/licenses/by/4.0/), which permits unrestricted use, distribution, and reproduction in any medium, provided you give appropriate credit to the original author(s) and the source, provide a link to the Creative Commons license, and indicate if changes were made. The Creative Commons Public Domain Dedication waiver (http://creativecommons.org/publicdomain/zero/1.0/) applies to the data made available in this article, unless otherwise stated.
About this article
Cite this article
Wang, Y., Hu, L., Ji, P. et al. Erratum to: MIIP remodels Rac1-mediated cytoskeleton structure in suppression of endometrial cancer metastasis. J Hematol Oncol 10, 163 (2017). https://doi.org/10.1186/s13045-017-0525-9
Received:

Accepted:

Published:

DOI: https://doi.org/10.1186/s13045-017-0525-9