Pathogenesis and biomarkers of natural killer T cell lymphoma (NKTL)
Journal of Hematology & Oncology
2019
12:28
Received: 3 December 2018
Accepted: 28 February 2019
Published: 15 March 2019
NK T cell lymphoma (NKTL), or extranodal NK T cell lymphoma, nasal type as classified by the World Health Organisation (WHO), is a non-Hodgkin lymphoma that has a predilection for the upper aerodigestive tract and can involve other non-nasal sites such as the gastrointestinal tract, skin, soft tissue and testis [1]. This is an aggressive disease with an Asian and Latin American preponderance [2–4]. This disease is characterised immunophenotypically by positivity for CD2, CD56, cytoplasmic CD3ε and cytotoxic molecules such as granzyme B and TIA1. Demonstration of EBV-encoded RNA (EBER) is a prerequisite for the histological diagnosis of NKTLs. Early stages of the disease are treated with radiotherapy or a combination of chemoradiation with good clinical outcomes. However, in advanced stages, this disease is invariably fatal despite the initial good responses with multi-agent chemotherapy regimens.
Natural killer (NK) cells derive from the lymphoid lineage, together with B and T cells. While NK cells have traditionally been classified as a component of the innate immune system, they have been shown to have characteristics of adaptive immunity such as antigen specificity, immunologic memory and ability to undergo clonal expansion when exposed to a pathogen. NK cells, similar to its T cell counterpart, arise from a common lymphocyte precursor in the bone marrow. Mature NK cells can be found in multiple organs such as the spleen, liver, lung and blood [5, 6].
In recent years, the availability of genome sequencing technologies has changed the diagnostic and therapeutic paradigm in many diseases. NKTL is no exception—the understanding of molecular pathogenesis of NKTL has moved leaps and bounds [
7
]. Figure
1
provides an overview of our current understanding of the key biologic mechanisms that drive this disease. A discussion of the various pathogenic mechanisms will be presented in this review.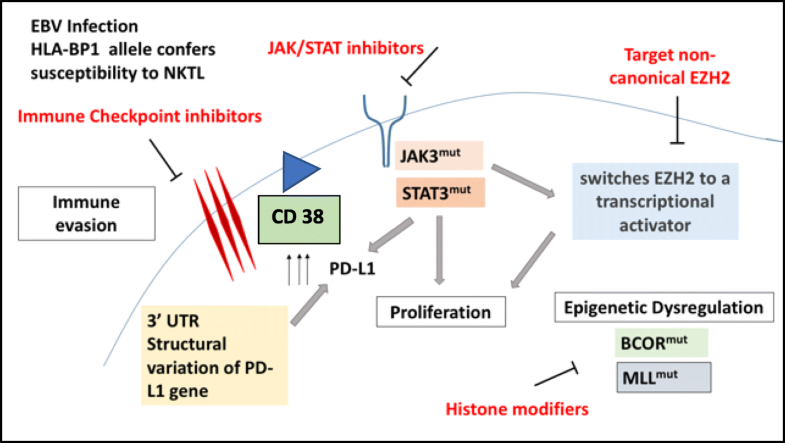 (1)
Division of Medical Oncology, National Cancer Centre Singapore, 11 Hospital Drive, Singapore, 169610, Singapore
(2)
Singhealth Duke- NUS Blood Cancer Centre, Singapore, Singapore
(3)
Duke-NUS Medical School, Singapore, Singapore
(4)
Lymphoma Genomic Translational Research Laboratory, Division of Cellular and Molecular Research, National Cancer Centre Singapore, 11 Hospital Drive, Singapore, 169610, Singapore
(5)
Genome Institute of Singapore A*STAR, Singapore, Singapore