Light chain (AL) amyloidosis: update on diagnosis and management
Journal of Hematology & Oncology
2011
4:47
Received: 18 October 2011
Accepted: 18 November 2011
Published: 18 November 2011
Abstract
Light chain (AL) amyloidosis is a plasma cell dyscrasia characterized by the pathologic production of fibrillar proteins comprised of monoclonal light chains which deposit in tissues and cause organ dysfunction. The diagnosis can be challenging, requiring a biopsy and often specialized testing to confirm the subtype of systemic disease. The goal of treatment is eradication of the monoclonal plasma cell population and suppression of the pathologic light chains which can result in organ improvement and extend patient survival. Standard treatment approaches include high dose melphalan (HDM) followed by autologous hematopoietic stem cell transplantation (SCT) or oral melphalan with dexamethasone (MDex). The use of novel agents (thalidomide, lenalidomide and bortezomib) alone and in combination with steroids and alkylating agents has shown efficacy and continues to be explored. A risk adapted approach to SCT followed by novel agents as consolidation reduces treatment related mortality with promising outcomes. Immunotherapeutic approaches targeting pathologic plasma cells and amyloid precursor proteins or fibrils are being developed. Referral of patients to specialized centers focusing on AL amyloidosis and conducting clinical trials is essential to improving patient outcomes.
Keywords
Multiple MyelomaAmyloidosisThalidomideBortezomibLenalidomide
Introduction
Primary systemic or light chain amyloidosis (AL) is characterized by a clonal population of plasma cells in the bone marrow that produce monoclonal light chain of kappa or lambda type. Amyloidogenic light chains misfold forming a highly ordered beta pleated sheet configuration which is the structure that defines amyloid fibrils of any type (including light chain, hereditary, senile systemic or secondary). Contiguous beta pleated sheets wind together into a fibrillar configuration instead of the typical alpha helical pattern of most proteins [1]. Amyloid fibrils deposit in organs, progressively interfering with organ structure and function [2–4]. Commonly affected organs include the heart, kidneys, gastrointestinal (GI) tract/liver or the peripheral or autonomic nervous system (NS).
AL amyloidosis should be suspected in any patient with a monoclonal gammopathy and unexplained shortness of breath, fatigue, edema, weight loss, orthostasis or paresthesias (Table
1
)[
5
]. However, it often requires an astute clinician because symptoms are diverse and easily mimicked by more common disorders. Once considered, the evaluation for AL amyloidosis includes testing to identify an underlying clonal plasma cell disorder (bone marrow aspirate/biopsy, serum and urine electrophoreses and immunofixation and serum free light chain testing). In addition, it is essential to determine organs of involvement and an initial work up should include echocardiogram, EKG, 24 hour urine total protein assessment, orthostatic blood pressures; specific GI and NS testing should be performed if indicated. Confirmation of amyloidosis requires tissue sampling to demonstrate congophilic amyloid deposits or fibrils that are 7-10 nanometers in diameter by electron microscopy. While in some patients amyloid deposition will be identified on bone marrow biopsy, in combination with fat pad aspirate, amyloid deposition can be demonstrated in 85% of patients [
6
]. However, because there remains a 15% chance that amyloidosis is present even when both the bone marrow and fat pad are negative, involved organs should be biopsied if the index of suspicion is high.
Table 1
Reasons to Suspect AL Amyloidosis
| 1. | Non-diabetic nephrotic syndrome |
| --- | --- |
| 2. | Non-ischemic cardiomyopathy and hypertrophy* |
| 3. | Hepatomegaly or increased alkaline phosphatase** |
| 4. | Monoclonal gammopathy with |
| |    a. Autonomic or sensory neuropathy |
| |    b. Unexplained fatigue |
| |    c. Edema |
| |    d. Unintentional weight loss |
Although AL amyloidosis is the most common form of systemic amyloidosis, up to 10% of patients may present with "secondary" or "hereditary" amyloidosis and an incidental monoclonal gammopathy of undetermined significance (MGUS) rather than AL amyloidosis [7]. All amyloid fibrils regardless of their protein of origin intercalate Congo red stain, demonstrate apple-green birefringence under light microscopy and have similar ultrastructural characteristics by electron microscopy. In any patient with more than one source of amyloid, it is essential to determine with certainty the protein composition of the amyloid deposit which may be amyloid A or transthyretin in secondary or hereditary amyloid, respectively. Immunohistochemistry, while routinely used to type amyloid deposits is often unreliable [8, 9]. Immunogold electron microscopy is more specific than immunohistochemistry and can be performed on a fat pad samples if amyloid is present and the appropriate antibodies are available [10, 11]. However, using laser microdissection with mass spectrometry, all known types of amyloid can be identified with a single test and this method is most reliable [12]. However, this technology is only available at specialized centers. Treatment for AL systemic amyloidosis which is distinctly different from therapy for hereditary variants or secondary amyloidosis, should only be considered once the precursor protein is identified with certainty.
In the absence of clonal plasma cells in the bone marrow, light chain amyloid may localized to a single site, most often the skin, larynx or urinary tract [
13
]. Isolated pulmonary nodules and colonic polyps may represent localized rather than systemic disease [
14
]. Localized amyloidosis does not require systemic therapy and symptoms should be managed by system specific specialists. An algorithm for the work up of a patient once amyloid is identified by biopsy is shown (Figure
1
).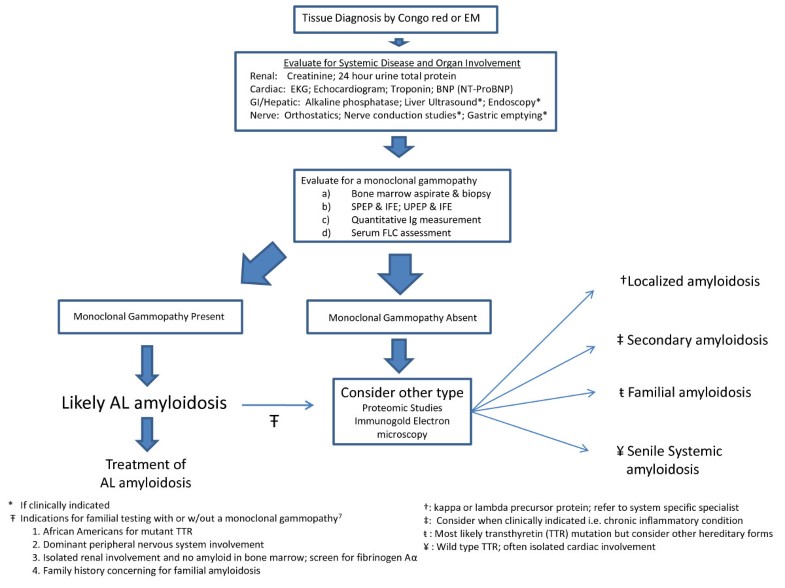 The source of the amyloidogenic light chains is a clone of plasma cells, histologically identical to those seen in the more common plasma cell dyscrasia, multiple myeloma. Given these similarities, to date, treatments for AL have been largely derived from those studied for the treatment of multiple myeloma. However, amyloid- specific research is urgently needed because patients with AL amyloidosis often do not tolerate therapy at doses used for patients with multiple myeloma due to amyloid-affected organ dysfunction. At the present time, there are no drugs specifically FDA-approved for the treatment of amyloidosis.
Goals of Therapy and Prognostic Markers
Current therapies that are available for AL amyloidosis are aimed at eradicating the pathologic plasma cells and eliminating the circulating free light chain. Interruption of precursor protein production can lead to the regression of amyloid deposits, organ improvement and extended survival [
15
–
17
]. The efficacy of a treatment can be measured both in terms of reduction in the burden of clonal plasma cell disease (hematologic response) and by improvement in the organ function (organ response)[
18
]. The serum free light chain (FLC) assay which detects circulating FLCs rather than intact immunoglobulins, is a more powerful predictor of survival in AL amyloidosis than standard immunoelectrophoresis [
19
]. In 2010, the International Society for Amyloidosis revised and validated hematologic response criterion for AL amyloidosis based on FLC assessment at baseline and following treatment (Figure
2
)[
20
]. While complete response (CR) continues to require a negative serum and urine immunofixation electrophoresis (IFE), normal serum FLC ratio and < 5% clonal plasma cells on bone marrow studies, the definitions of partial response (PR) and very good partial response (VGPR) are based on the difference between involved and uninvolved FLC (dFLC). Because ≥ VGPR, defined as dFLC < 40 mg/L is associated with an 80% OS at 3 years, clinicians should adapt therapy in patients who fail to achieve this goal.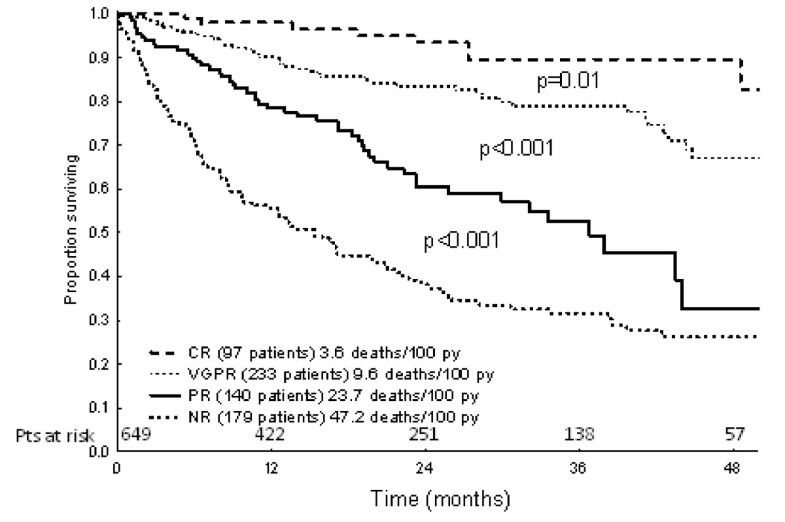 Cardiac biomarkers were studied in AL amyloidosis because the extent of cardiac involvement may be the most important determinant of outcome. Troponin I or T provide a quantitative assessment of cardiac damage and BNP and/or NT-proBNP indicate cardiomyocyte stress and are independently associated with survival [21]. By using these biomarkers, a staging system has been developed has been developed and patients can be classified as having stage I, II or III disease with survivals of 26, 11 and 3.5 months, respectively [22]. This staging system is important for clinical management, but also for stratifying patients enrolled on clinical trials.
Therapeutic options in AL Amyloidosis
Conclusion
AL amyloidosis is a rare and potentially devastating disease that is likely under diagnosed. Advances in diagnostic techniques and the use of cardiac biomarkers for staging and free light chains to grade response have improved care. For newly diagnosed patients with stage I and II disease, aggressive treatment with HDM/SCT is warranted because the approach is effective and results in rapid hematologic responses; however, the toxicity of this approach must be appreciated and a risk adapted dosing should be adopted. Treatment for transplant ineligible patients including those with stage III or other advanced organ disease involvement is evolving and may include the use of oral alkylating agents, corticosteroids as well as novel agents in different combinations. The proteasome inhibitor bortezomib has single agent activity in Al amyloidosis and when combined with chemotherapy or administered following SCT, has resulted in the highest response rates to date. Second and third generation proteasome inhibitors are being investigated. For relapsed and refractory patients, newer agents and novel approaches using immunotherapy are being explored.
Referral to a center of excellence experienced in caring for patients with amyloid related organ dysfunction is essential because patients often require the expertise of a multidisciplinary team. Although hematologic responses have become more frequent, organ improvement evolves over months to years so management of patients requires vigilant attention to supportive therapies. In addition, access to investigational approaches is likely to be available only at these centers. While the explosion of novel agents with activity in multiple myeloma holds promise for the care of patients with AL amyloidosis, a commitment specifically to the clinical investigation of treatment for AL amyloidosis is critical in order to improve patient outcomes.
Declarations
Acknowledgements
This work was supported by the Empire Clinical Research Investigator Program (ECRIP).
Authors' Affiliations
(1)
City of Hope National Cancer Center, Duarte, USA
(2)
Memorial Sloan- Kettering Cancer Center Department, New York, USA
Copyright
© Rosenzweig and Landau; licensee BioMed Central Ltd. 2011
This article is published under license to BioMed Central Ltd. This is an Open Access article distributed under the terms of the Creative Commons Attribution License (http://creativecommons.org/licenses/by/2.0), which permits unrestricted use, distribution, and reproduction in any medium, provided the original work is properly cited.