Toll-like receptors in the pathogenesis of human B cell malignancies
Journal of Hematology & Oncology
2014
7:57
Received: 3 June 2014
Accepted: 28 July 2014
Published: 12 August 2014
Toll-like receptors (TLRs) are essential receptors of the innate immune system and key regulators of the acquired immune system. Ten proteins (TLR1–10) have been identified in humans [
1
],[
2
], each of them with a particular subcellular localization depending on the specific pathogen-associated molecular patterns (PAMPs) or damage-associated molecular patterns (DAMPs) they recognize (Table
1
). TLR2 forms functional heterodimers with either TLR1 or TLR6. These heterodimers together with TLR4 and TLR5 are expressed on the cell membrane, whereas TLR3, TLR7, TLR8 and TLR9 are located in endosomes. TLRs induce pro-inflammatory molecules but, they are also implicated in proliferation, survival, and tissue repair [
3
].
Table 1
Toll-like receptors (TLRs) and their DAMPs and PAMPs ligands
DAMPS (endogenous)

PAMPs (exogenous)

Ligand

Ligand

Origin

TLR1

Tri-acylated Lipopeptides

Bacteria and Mycobacteria

Soluble factors

Neisseria meningitidis

TLR2

HSP60, HSP70, HSP96

Lipoprotein/lipopeptides

Various pathogens

HMGB1

Peptidoglycan

Gram + bacteria

Hyaluronic acid

Lipoteichoic acid

Gram + bacteria

Lipoarabinomannam

Mycobacteria

Phenol-soluble modulin

Staphylococcus epidermis

Glycoinostolphospholipids

Trypanosoma cruzi

Glycolipids

Treponema maltophilum

Porins

Neisseria

Atypical-LPS

Leptospira interrogans and Porphyromonas gingivalis

Zymosan

Fungi

TLR3

dsRNA, mRNA

dsRNA

Viruses

TLR4

HSP22, HSP60, HSP70,

LPS

Gram- bacteria

HSP96

HSP60

Chlamydia pneumonia

HMGB1β-defensin 2

Fusion protein

Respiratory syncytial virus

fibronectin

Envelope proteins

Mouse mammary tumor virus

Hyaluronic acid

Taxol

Plant product

Heparan sulphate

Fibrinogen

Surfactant-protA

TLR5

Flagellin

Gram + or Gram- bacteria

TLR6

Di-acylated lipopeptides

Mycoplasma

Lipoteichoic acid

Gram + bacteria

Zymosan

Fungi

Phenol-soluble modulin

Staphylococcus epidermis

Heat-liable soluble factor

Group B streptococcus

TLR7

Endogenous RNA

ssRNA

Viruses

TLR8

Endogenous RNA

ssRNA

Viruses

TLR9

Endogenous DNA

Unmethylated CpG motifs

Bacteria and viruses

Hemozoin

Plasmodium

TLR10

Unknown

Unknown
TLRs are pattern recognition receptors structurally characterized by extracellular leucine rich repeats, and transmembrane and intracellular Toll/Interleukin-1 receptor (TIR) domains [
1
],[
3
]. The extracellular domain interacts directly with PAMPs or DAMPs, triggering the downstream signaling through the TIR domain [
1
]. In mammals, four different types of signaling adaptor proteins can be recruited by the TIR domain: Myeloid differentiation primary-response protein 88 (MyD88), TIR-domain-containing adaptor protein inducing IFNβ (TRIF), TRIF-related adaptor molecule (TRAM), and TIR-domain-containing adaptor protein (TIRAP) (Figure
1
). The MyD88 signaling cascade is essential for TLR2, TLR4, TLR5, TLR7, TLR8 and TLR9. TIRAP activation is MyD88-dependent and is associated with TLR2 and TLR4. TRIF acts independently of MyD88 in signal transduction following TLR3 and TLR4 activation. TRAM mediates TLR4 signaling in a MyD88-independent/TRIF-dependent way [
1
]. The adaptor proteins serve as a scaffold for the recruitment of IL-1R-associated kinases (IRAK) 1, 2, 4 and M and TAB2 and TNF-receptor-associated factor 6 (TRAF6) which eventually leads to nuclear translocation of Nuclear factor kappa-B (NF-kB) [
1
],[
3
] (Figure
1
). Other transcription factors that can be activated are activator protein 1 (AP-1) and interferon regulatory factor 3 (IRF3) [
1
].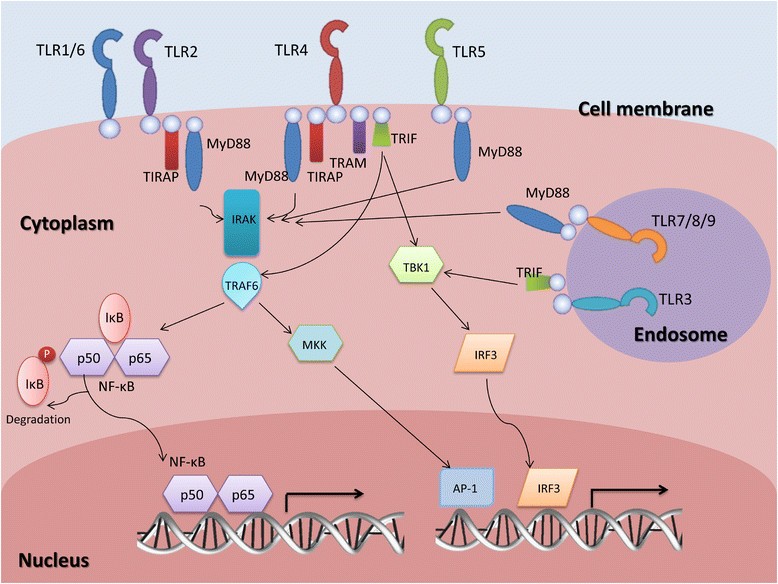 The contribution of TLRs to B-cell lymphoma pathogenesis has gained more interest in recent years [2],[4], but it is not completely understood. This review summarizes the current knowledge on the expression of TLRs in normal B-cells and in B-cell malignancies and discusses how TLRs can contribute to onset and progression of these malignancies.
(1)
Department of Pathology and Medical Biology, University of Groningen, University Medical Center Groningen, Hanzeplein 1 HPC EA10, Groningen, 9700RB, The Netherlands
© Isaza-Correa et al.; licensee BioMed Central Ltd. 2014
This article is published under license to BioMed Central Ltd. This is an Open Access article distributed under the terms of the Creative Commons Attribution License (http://creativecommons.org/licenses/by/4.0), which permits unrestricted use, distribution, and reproduction in any medium, provided the original work is properly credited. The Creative Commons Public Domain Dedication waiver (http://creativecommons.org/publicdomain/zero/1.0/) applies to the data made available in this article, unless otherwise stated.