We're sorry, something doesn't seem to be working properly.
Please try refreshing the page. If that doesn't work, please contact us so we can address the problem.
The role of telomeres and telomerase in hematologic malignancies and hematopoietic stem cell transplantation
Journal of Hematology & Oncology
2014
7:61
Received: 10 June 2014
Accepted: 6 August 2014
Published: 20 August 2014
Abstract
Telomeres are specific nucleoprotein structures at the ends of eukaryotic chromosomes. Telomeres and telomere-associated proteins maintain genome stability by protecting the ends of chromosomes from fusion and degradation. In normal somatic cells, the length of the telomeres gradually becomes shortened with cell division. In tumor cells, the shortening of telomeres length is accelerated under the increased proliferation pressure. However, it will be maintained at an extremely short length as the result of activation of telomerase. Significantly shortened telomeres, activation of telomerase, and altered expression of telomere-associated proteins are common features of various hematologic malignancies and are related with progression or chemotherapy resistance in these diseases. In patients who have received hematopoietic stem cell transplantation (HSCT), the telomere length and the telomerase activity of the engrafted donor cells have a significant influence on HSCT outcomes. Transplantation-related factors should be taken into consideration because of their impacts on telomere homeostasis. As activation of telomerase is widespread in tumor cells, it has been employed as a target point in the treatment of neoplastic hematologic disorders. In this review, the characteristics and roles of telomeres and telomerase both in hematologic malignancies and in HSCT will be summarized. The current status of telomerase-targeted therapies utilized in the treatment of hematologic malignancies will also be reviewed.
Keywords
TelomereTelomeraseShelterinHematologic malignanciesHematopoietic stem cell transplantationTarget therapy
Introduction
The telomeres are specific nucleoprotein structures at the ends of eukaryotic chromosomes which maintain genome stability by protecting chromosomes from end fusion and degradation. Human telomeres are composed of 10–15 kb of 5′-TTAGGG-3′ DNA sequence repeats and a telomere-associated protein complex, shelterin (reviewed by Blackburn) [1]. The end of each telomere consists of a t-loop structure formed by strand invasion of the 3′ single strand overhang into the double-stranded telomeric DNA and then stabilized by shelterin [2].
In most somatic cells, telomeres gradually become shortened (20–59 bp/year) because of the end-replication problem during cell division [3],[4]. Once its length reaches a critical limitation, the telomere is unable to assemble the t-loop structure and the chromosome becomes uncapped. At this point the DNA damage response and replicative senescence will be triggered through the ataxia telangiectasia-mutated gene (ATM) or the ataxia telangiectasia and Rad3 (ATR) -related checkpoint pathway [5]. However, cells in which cell cycle checkpoint proteins have been inactivated are able to continue division and continue losing telomeric sequences until they reach a crisis stage in which p53-dependent apoptosis is triggered. Cancer cells have to go through the crisis stage to maintain their telomeres and achieve immortality. In the majority of cancer cells (80% to 90%), telomerase has been activated to maintain telomere length [6], while a subset of cancer cells elongate telomeres through telomerase-independent mechanisms named alternative lengthening of telomeres (ALT) [7].
Telomerase is a reverse transcriptase which maintains telomere length by adding nucleotides to the single-stranded (ss) DNA of the telomere during cell division [8]. Telomerase consists of a protein component (hTERT) and an RNA template component (hTERC). hTERT is the catalytic subunit of telomerase which limits its reverse transcriptase activity. hTERC consists of an 11 nucleotide sequence (5′-CUAACCCUAAC-3′) which is complementary to the telomere sequence (TTAGGG)n [9]. Telomerase is recruited to the telomere via its interaction with shelterin.
Shelterin is a protein complex which consists of 6 telomere-associated proteins: telomeric repeat-binding factors 1 and 2 (TRF1 and TRF2), TRF1-interacting nuclear factor 2 (TIN2), protection of telomeres (POT1), POT1 and TIN2-interacting protein 1 (TPP1), and TRF2-interacting protein 1 (Rap1) (Figure
1
). Shelterin protects the telomere from being recognized as a double-strand break in the DNA sequence which would lead to activation of the DNA damage response and repair process (reviewed by de Lange) [
10
]. Shelterin is anchored to the chromosomal end by the double-strand (ds) DNA binding proteins TRF1 and TRF2, the ss DNA binding protein POT1, and Rap1 which binds DNA at the ds-ss junction of the telomere [
11
]. TRF1 and TRF2 bind TIN2 simultaneously to form two separate complexes [
12
],[
13
]. The binding between TRF1/TRF2 and TIN2 protects TRF1/TRF2 from degradation by tankyrase and prevents their inappropriate localization [
13
].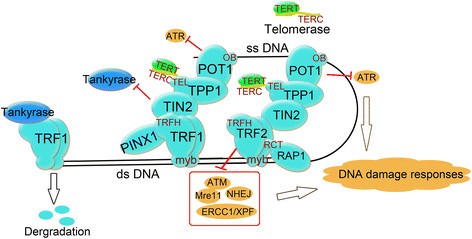 POT1 and TRF2 interact with each other and protect the telomeres from the DNA damage response triggered by the ATR and ATM pathways independently [14],[15]. POT1-deleted mice show increased p53-dependent apoptosis, as well as elevated DNA damage response and chromosomal fusions [16]. TPP1 forms a heterodimer with POT1 and acts as the bridge between the TRF1 complex and telomerase [17],[18].
Telomeres and telomerase in hematologic malignancies
Telomeres and telomerase in hematopoietic stem cell transplantation (HSCT)
HSCT is a potential curative therapy for many hematologic disorders and immunodeficiency diseases. The self-renewal capacity of hematopoietic stem cells (HSCs) is essential for reconstitution of the hematopoietic system. The proliferative potential of HSCs decreases with differentiation and age in line with the shortening of telomeres and increased telomerase activities in these cells. Mean telomere length is shorter in HSCs purified from adult bone marrow than from fetal liver or umbilical cord blood [55]. Telomerase activity is higher in HSCs during the late development stage than in non-expanding HSCs [56].
hTERT-deleted mice have been used as a telomerase-deficient model for the study of telomerase function in the hematopoietic system [57]–[59]. Sekulovic et al. reported the loss of a 10 kb length of the telomere of leukocytes generated from hTERT knockout HSCs after 6 days of in vitro expansion and 3 months of regeneration in secondary-transplanted recipient mice [57]. Telomere dysfunction impaired mesenchymal progenitor cell function, reducing the capacity of bone marrow stromal cells for maintaining functional HSCs. When wild-type HSCs were transplanted into TERC-knockout recipient mice, accelerated myelopoiesis and impaired B-cell development occurred [59].
Patients who received autologous or allogeneic HSCT (auto-HSCT or allo-HSCT) experienced more severe erosion of telomere length in their blood cells under massive differentiation pressure compared with their donors. Akiyama et al. reported that the telomeres of transplanted cells became shortened by up to 1.9 kb in auto-HSCT recipients over an observation period of 5.3 years, the same frequency of telomere erosion as would occur over 15–20 years in normal individuals. Telomere erosions of up to 2.1 kb were observed in patients who received allo-HSCT [60]. Baerlocher et al. evaluated 44 long-term survivors after allo-HSCT with a median follow-up of 17.5 years. Significantly shortened telomere length was observed in all blood cells lineages, including granulocytes, naïve/memory T cells, B cells and natural killer/natural killer T cells in the recipients compared with that in their donors [61]. The rate of telomere shortening in recipients is highest in the first year after HSCT and then slows down to a rate similar to that of their donor and of healthy controls [62]. Telomere shortening in patients who received allo-HSCT seems to be more sensitive to the influence of ageing than auto-HSCT. A correlation between donor age and telomere shortening rate has been found in allo-HSCT but not in auto-HSCT recipients [60].
In allo-HSCT, more severe telomere shortening is associated with elderly donors, female donors and the development of chronic graft-versus-host disease (cGVHD) [60],[61]. The accelerated telomere shortening of transplanted female donor cells may be a consequence of the deficiency of estrogen-upregulated telomerase activity after transplantation [63]. Patients who develop cGVHD also show more severe telomere attrition, probably due to chronic inflammation and oxidative stress. In contrast, development of acute GVHD (aGVHD) has no significant impact on telomere length in recipients [61]. CD4 + CD25 + Foxp3+ regulatory T cells (Treg) constitute a lymphocyte subgroup responsible for the control of cGVHD. Patients with telomerase deficiency in Treg have impaired proliferative capacity of these cells and consequently a higher incidence of moderate or severe cGVHD [64].
Treatments involved in the HSCT procedure could also have an impact on the telomere homeostasis of engrafted HSCs and may eventually influence the outcomes of recipients (Figure
2
). In patients who received auto-HSCT, pre-transplantation chemotherapy has a significant influence on the telomere length of transplanted cells. Telomere length is negatively related to the number of courses of cytoreductive therapy received by patients [
60
]. Ricca
et al
. compared telomere length in peripheral blood progenitor cells (PBSCs) collected after two tightly-spaced high-dose (hd) chemotherapy courses. Telomere length was significantly shorter in PBSCs collected after the second course (hd-Ara-C) compared to that collected after the first course (hd-CY) [
65
]. This difference in telomere length of collected PBSCs determines the telomere length of the hematopoietic cells after auto-HSCT. In another study patients transplanted with PBSCs from the second collection had significantly shorter telomeres than those who received PBSCs from the first collection [
66
].

Donors' HSCs with longer telomeres could offer a replicative advantage and lead to faster granulocyte recovery in the recipient after HSCT. In contrast, patients with shorter telomere lengths after HSCT took a longer period to reach neutrophil recovery and had a greater risk of developing hematopoietic disorders [67]. Accelerated telomere shortening and consequent chromosomal instability are independently associated with the development of therapy-related myelodysplasia or acute myelogenous leukemia (t-MDS/AML) after auto-HSCT in patients with Hodgkin's lymphoma or non-Hodgkin's lymphoma. In patients who developed t-MDS/AML, reduced proliferative capacity of HSCs contributed to decreased generation of committed progenitors [68].
The telomere length of hematopoietic cells in the recipient before HSCT, which represents the inner environment of host, is another factor impacting the outcome of transplantation. Peffault et al. reported that treatment-related mortality was inversely correlated with age-adjusted recipients' pre-transplantation telomere length in their lymphocytes (hazard ratio, 0.4) in patients who received allo-HSCT, especially in patients with advanced stage disease [69].
Telomerase-targeting therapies
Since the increased expression of hTERT and activation of telomerase are universally involved in oncogenesis and the progression of hematopoietic malignancies, telomerase inhibition could be an effective antineoplastic strategy for therapy (Figure
3
).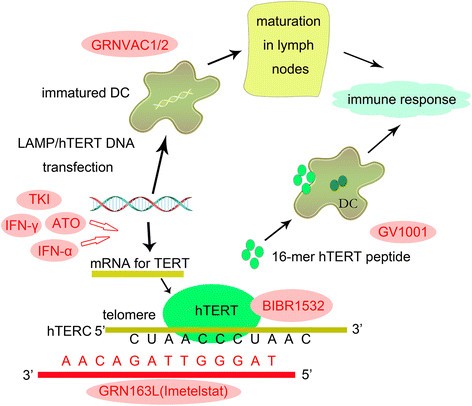 Conclusions
Telomeres are essential for the maintenance of chromosome stability in mammalian cells. Accelerated telomere shortening leads to activation of telomerase in stem cells and in the majority of tumor cells. In patients with hematologic malignancies, shortened telomeres and increased telomerase activity are usually observed and are associated with disease progression. In patients who have received HSCT the telomere length of engrafted stem cells is closely related to the outcomes of HSCT. Consequently the telomere characteristics should be taken into consideration during donor selection. It is also necessary to evaluate the effect of chemotherapy and conditioning courses on telomere length. Many promising telomerase targeting therapies have been confirmed to be tolerable and efficient to induce immune responeses in patients with hematological malignancies. However optimized strategies are still required to ensure their clinical efficiency. Further work will be needed to elucidate the complete story of telomere biology and to explore efficient telomerase-targeting therapies in hematologic malignances.
Abbreviations
ATM:

Ataxia telangiectasia-mutated gene
ATR:

Ataxia telangiectasia and Rad3
ALT:

Alternative lengthening of telomeres
ss DNA:

Single-strand DNA
ds DNA:

Double-strand DNA
TRF1:

Telomeric repeat-binding factors 1
TRF2:

Telomeric repeat-binding factors 2
TIN2:

TRF1-interacting nuclear factor 2
Rap1:

TRF2-interacting protein 1
POT1:

Protection of telomeres protein 1
TPP1:

POT1 and TIN2-interacting protein 1
AL:

Acute leukemia
AML:

Acute myeloid leukemia
ALL:

Acute lymphoblastic leukemia
LDH:

Lactate dehydrogenase
CR:

Complete remission
APL:

Acute promyelocytic leukemia
CLL:

Chronic lymphocytic leukemia
UM-IGVH:

Unmutated immunoglobulin variable region
PFS:

Progression-free survival
OS:

Overall survival
CML:

Chronic myelocytic leukemia
CP:

Chronic phase
BP:

Blastic phase
CCR:

Completely cytogenetic remission
IM:

Imatinib Mesylate
ECTR:

Extra-chromosomal telomeric repeat
AP:

Accelerated phase
MDS:

Myelodysplastic syndromes
IPSS:

International Prognostic Score System
3D:

Three-dimensional
HSCT:

Hematopoietic stem cell transplantation
HSCs:

Hematopoietic stem cells
auto-HSCT:

Autologous hematopoietic stem cell transplantation
allo-HSCT:

Allogeneic hematopoietic stem cell transplantation
GVHD:

Graft-versus-host disease
cGVHD:

Chronic graft-versus-host disease
aGVHD:

Acute graft-versus-host disease
Treg:

Regulatory T cells
PBSCs:

Peripheral blood progenitor cells
t-MDS/AML:

Therapy-related myelodysplasia or acute myelogenous leukemia
CTL:

Cytotoxic T lymphocyte
GM-CSF:

Granulocyte-monocyte colony-stimulating factor
TLR-7:

Toll-like receptor-7
DC:

Dendritic cell
MM:

Multiple myeloma
APTT:

Activated partial thromboplastin time
TKI:

Tyrosine kinase inhibitors
PP2A:

Protein phosphatase 2A
ATO:

Arsenic trioxide
Declarations
Acknowledgements
The work was funded by the Key Project of the National Natural Science Foundation of China (81230014), the National High Technology Research and Development Program of China (2012AA020905), the National Natural Science Foundation of China (81100387, 81170501) and the Major Technology Program (Key Social Development) of the Science Technology Department of Zhejiang Province (2012C13021-1).
Authors' Affiliations
(1)
Bone Marrow Transplantation Center, The First Affiliated Hospital, Zhejiang University, School of Medicine, Hangzhou, P R China
(2)
Department of Haematology, Guangzhou Liuhuaqiao Hospital, Guangzhou, P R China
(3)
Department of Haematology, The First Affiliated Hospital, Zhengzhou University, Zhengzhou, P R China
Copyright
© Wang et al.; licensee BioMed Central Ltd. 2014
This article is published under license to BioMed Central Ltd. This is an Open Access article distributed under the terms of the Creative Commons Attribution License (http://creativecommons.org/licenses/by/4.0), which permits unrestricted use, distribution, and reproduction in any medium, provided the original work is properly credited. The Creative Commons Public Domain Dedication waiver (http://creativecommons.org/publicdomain/zero/1.0/) applies to the data made available in this article, unless otherwise stated.