MiRNA-based therapeutic intervention of cancer
Journal of Hematology & Oncology
2015
8:68
Received: 10 March 2015
Accepted: 28 May 2015
Published: 11 June 2015
Abstract
MicroRNAs (miRNAs) are important modulators of eukaryotic gene expression. By targeting protein coding transcripts, miRNAs influence the cellular transcriptome and proteome, thus helping to determine cell fate. MiRNAs have emerged as crucial molecules in cancer research, in which recent studies have linked erratic expression of miRNAs to carcinogenesis and have provided solid evidence for their potential in cancer therapy. This review briefly summarises the recent knowledge on the involvement of miRNAs in tumourigenesis and reviews current studies on the therapeutic strategies and advances in the delivery of miRNAs.
Keywords
Noncoding RNAs
Cancer therapy
Introduction
MicroRNAs (miRNAs) are endogenous, small, noncoding RNAs that are highly conserved across various species of eukaryotes [1]. MiRNAs repress cellular translation and stability of a myriad of protein-coding transcripts by primarily targeting their 3′ untranslated regions (UTRs) in a sequence-specific manner [2, 3]. This selective silencing of gene expression by miRNAs has profound impact on human health and disease.
The latest release of miRBase [
4
] enlists at least 2588 miRNAs in humans. The canonical biogenesis of miRNAs is a tightly regulated process. Various epigenetic, transcriptional and processing mechanisms fine-tune the spatial and temporal expression of miRNAs [
5
]. MiRNA genes are predominantly transcribed by RNA polymerase II as primary miRNAs (pri-miRNAs) which are processed to precursor miRNAs (pre-miRNAs) in the nucleus by a microprocessor complex (composed of Drosha and DGCR8 (DiGeorge syndrome critical region 8)) [
6
]. Subsequently, pre-miRNAs are exported to the cytoplasm by Exportin-5-Ran-GTP complex [
7
], where Dicer1 cleaves the hairpin loop of pre-miRNA [
8
,
9
] and TARBP2 (TAR RNA-binding protein 2) facilitates RNA duplex loading onto Argonaute protein AGO2 [
10
]. The antisense strand (mature) is retained by AGO2 and the sense strand is degraded, thus configuring a silencing complex [
11
] (Fig.
1
). Non-canonical miRNA biogenesis has also been reported, and these mechanisms are reviewed elsewhere [
12
].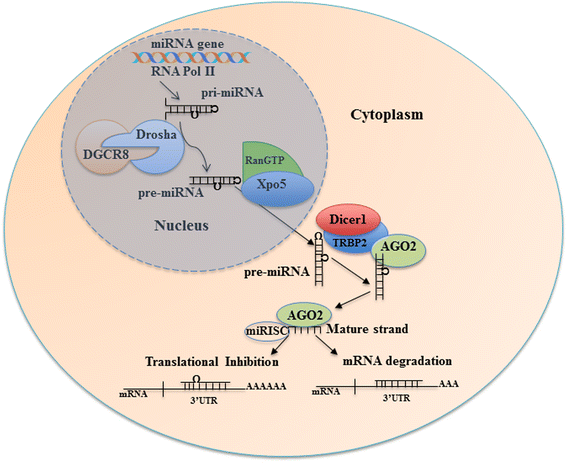 MiRNAs silence gene expression via multiple mechanisms [13]. The current model suggests that miRISC (miRNA-induced silencing complex) binds to the complementary "seed" region within the 3′ UTR of target mRNAs (messenger RNAs) and influences their degradation and/or the level of translation [3]. The thermodynamic stability of the miRNA-mRNA interaction is critical for effective repression of a potential target; however, other factors, including RNA secondary structure and spatial constraints posed by the same or other miRNA binding sites within the 3′ UTR, may influence the silencing outcome of the target [14] (Fig. 1). Exponentially growing evidence confers the unique potential of miRNAs to modulate diverse biological processes, including cell growth and proliferation, cell cycle control, differentiation, apoptosis and tissue development [15, 16]. Therefore, it is highly plausible that any aberration or deregulation in miRNA expression can be detrimental to the cell. Further, numerous studies have intimately linked erratic miRNA expression to the aetiology of cancer. Here, we briefly summarise the recent evidence for the involvement of miRNAs and miRNA-based therapeutic strategies in various cancers. Also, we highlight advances on the therapeutic delivery of miRNAs for the treatment of cancer.
Authors' Affiliations
(1)
Transcriptional Networks in Lung Cancer Group, Cancer Research UK Manchester Institute, University of Manchester, Manchester, UK
Copyright
© Naidu et al. 2015
This is an Open Access article distributed under the terms of the Creative Commons Attribution License (http://creativecommons.org/licenses/by/4.0) which permits unrestricted use, distribution, and reproduction in any medium, provided the original work is properly credited. The Creative Commons Public Domain Dedication waiver (http://creativecommons.org/publicdomain/zero/1.0/) applies to the data made available in this article, unless otherwise stated.