Natural compounds targeting major cell signaling pathways: a novel paradigm for osteosarcoma therapy
Journal of Hematology & Oncology
2017
10:10
Received: 7 October 2016
Accepted: 8 December 2016
Published: 7 January 2017
Abstract
Osteosarcoma is the most common primary bone cancer affecting children and adolescents worldwide. Despite an incidence of three cases per million annually, it accounts for an inordinate amount of morbidity and mortality. While the use of chemotherapy (cisplatin, doxorubicin, and methotrexate) in the last century initially resulted in marginal improvement in survival over surgery alone, survival has not improved further in the past four decades. Patients with metastatic osteosarcoma have an especially poor prognosis, with only 30% overall survival. Hence, there is a substantial need for new therapies. The inability to control the metastatic progression of this localized cancer stems from a lack of complete knowledge of the biology of osteosarcoma. Consequently, there has been an aggressive undertaking of scientific investigation of various signaling pathways that could be instrumental in understanding the pathogenesis of osteosarcoma. Here, we review these cancer signaling pathways, including Notch, Wnt, Hedgehog, phosphatidylinositol-4,5-bisphosphate 3-kinase (PI3K)/AKT, and JAK/STAT, and their specific role in osteosarcoma. In addition, we highlight numerous natural compounds that have been documented to target these pathways effectively, including curcumin, diallyl trisulfide, resveratrol, apigenin, cyclopamine, and sulforaphane. We elucidate through references that these natural compounds can induce cancer signaling pathway manipulation and possibly facilitate new treatment modalities for osteosarcoma.
Keywords
Osteosarcoma
Signaling pathways
Natural compounds
Ezrin
Background
Osteosarcoma (OS) is the most commonly diagnosed primary bone malignancy, with an incidence of 0.2–3 cases/100,000 annually in children and 0.8–11 cases/100,000 in adolescents. The incidence peaks in the second decade of life. While only 20% patients present with metastasis that is clinically detectable, the majority of the remaining 80% are presumed to have undetectable micro-metastases at diagnosis [1]. The cancer can be found on the bone surface, within the bone, or in extraosseous sites, including the lung [2]. The etiology of OS remains uncertain despite advancements in molecular sciences. The only known environmental factor for OS is ionizing radiation [3]. OS is ranked among the leading causes of cancer mortality in the pediatric population [4]. Therapy includes preoperative chemotherapy, surgery, and postoperative chemotherapy (cisplatin, methotrexate, and doxorubicin). Additional chemotherapy (ifosfamide and etoposide) has been reserved for patients with high risk of metastatic disease. While chemotherapy has increased overall survival to 60–75%, survival rates have remained the same for the last 30–40 years [5]. Moreover, only 30% patients with metastatic OS achieve a 5-year event free survival [6].
The vast majority of OS appears to be sporadic, occurring in patients without common familial members affected. Nevertheless, there is growing support that the cancer is associated with the activation of numerous oncogenes, including cyclin D1, mouse double minute 2 homolog (MDM2), and c-Myc. Additional studies have demonstrated that various signaling pathways appear to be involved in the tumorigenesis of OS, including Wnt and PI3/Akt [7]. Hence, characterizing molecular targets that are specific for OS will be paramount for developing new strategies for treatment modalities.
Our group has been investigating key molecular signaling pathways that are integral in the origin, proliferation, and survival of osteosarcoma cells. Genes in these pathways are often mutated, resulting in activated cancer stem cells that proliferate without the normal regulatory mechanisms seen in noncancerous cells. In this review, we summarize a variety of signaling pathways that have demonstrated important roles in OS pathogenesis. In addition, we review numerous phytochemicals and inhibitors targeting these signaling pathways that show promising treatment abilities in OS. Table
1
lists these important cell signaling pathways along with the respective specific inhibitors. Figure
1
outlines the chemical structures of the six compounds described including curcumin, diallyl trisulfide, resveratrol, apigenin, cyclopamine, and sulforaphane. Through continuous research of these various pathways, an improved understanding of the molecular machinery promoting OS can be attained. Successful future treatment modalities depend on our ability to better understand and target these cellular pathways.
Table 1
Effect of Natural Compounds Targeting Major Stem Cell Signaling Pathways
Major signaling pathways

Compounds

Target

Effect

References

Notch

Curcumin

Downregulates transcription and translation Notch-1 and downstream genes Hes-1, Hey-1, and Hey-2 mRNA levels

1Induces apoptosis by increasing reactive oxygen species

Diallyl trisulfide

Targets Notch-1 intracellular domain

Decreases expression of Notch downstream genes. Increases expression of potential tumor suppressor micro RNAs (miR-143 and miR-145) and decreases tumor promoting micro RNA miR-21

WNT/β-catenin

Resveratrol

β-catenin; histone H2AX

Apoptosis of OS cells by decreasing mRNA and protein expression of β-catenin and c-Myc

Histone H2AX phosphorylation causes telomere instability and DNA damage

Apigenin

β-catenin

Decreases protein expression of β-catenin and decreases matrix metalloproteinase 14 (MMP14) expression

Hedgehog

Cyclopamine

Binds to SMO

Prevents signal transduction to GLIS

[30]

PI3/AKT

Sulforaphane

ERK and AKT

Suppresses ERK and AKT phosphorylation, induces apoptosisthrough G2/M phase arrest

[46]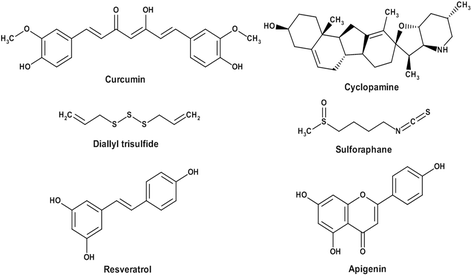 Chemopreventive agents and anti-cancer compounds
Conclusions
Osteosarcoma continues to be a challenging cancer to treat, and there has been a notable lack of progress in survival statistics for this aggressive bone cancer. Progress has stalled in part due to the lack of knowledge of OS pathogenesis. Historically, the lack of understanding of cellular mediators involved in proliferation and invasion of OS impaired our ability to target those mediators. As a result, the same backbone of chemotherapy has continued to remain the primary treatment strategy. The overall 5-year event free survival of pediatric patients with metastatic OS has been poor at 30% [6]. Simultaneously, there has been an eruption of scientific research investigating signaling pathways that appear to play crucial roles in tumor survival and renewal capacity. Many of these signaling pathways appear to be susceptible to targeting with natural compounds. These natural compounds have the potential to target multiple aberrant pathways in OS. Numerous in vitro and in vivo studies have demonstrated that these phytochemicals can modulate the signal pathways of OS. These various phytochemicals have already demonstrated considerable efficacy in a variety of other cancer types. Given the extraordinary lack of progress seen in OS clinical trials that continue to use various combinations of cytotoxic chemotherapy, it is time we look closer at these targeted agents and natural compounds. We need to quickly elucidate their mechanisms of action and safety profiles to push them into larger clinical trials for upfront therapy, so that we can finally make substantial advancements in treating this aggressive cancer.
Abbreviations
(EBP50):

ERM-binding phosphoprotein 50
(NP-1):

Nucleoprotein interactor 1
4E-BP1:

4E-binding protein 1
ADAM:

A disintegrin and metalloprotease
ALDH:

Aldehyde dehydrogenase
APH1:

Anterior pharynx defective 1
BCl-2:

B cell lymphoma 2
C-ERMAD:

Carboxy-ERMAD
CK1α:

Casein kinase 1 alpha 1
DATS:

Diallyl trisulfide
Deptor:

DEP domain-containing mTOR-interacting protein
DHh:

Desert hedgehog
Dll-1:

Delta-like-1
Dll-3:

Delta-like-3
Dll-4:

Delta-like-4
DNA-PK:

DNA-dependent protein kinase
Dsh/DV1:

Dsh/DV1
DSL:

Delta/Serrate/Lag-2
eIF4E:

Eukaryotic translation initiation factor 4E
EMT:

Epithelial-to-mesenchymal transition
ERM:

Ezrin/radixin/moesin
FOXO:

Forkhead box O1
GDI:

Guanosine diphosphate inhibitor
GDP:

Guanosine diphosphate
GEF:

GDP/GTP exchange factor
GLI1:

GLI family zinc finger 1
GLI2:

GLI family zinc finger 2
GLI3:

GLI family zinc finger 3
GLI5:

GLI family zinc finger 5
GP130:

Glycoprotein 130
GSI:

γ-Secretase inhibitors
GSK3β:

Glycogen synthase 3β
GTP:

Guanosine triphosphate
GβL:

LST8/G-protein β-subunit like protein
Hes:

Hairy and enhancer of split
Hey:

Hes-related family BHLH transcription factor with YRPW motif
Hh:

Hedgehog
IHh:

Indian hedgehog
IL-6:

Interleukin-6
ILK:

Integrin-linked kinase
Jag-1:

Jagged-1
Jag-2:

Jagged-2
JAK:

Janus tyrosine kinase
MAFK:

v-maf avian musculoaponeurotic fibrosarcoma oncogene homolog K
MAML:

Mastermind-like proteins
Mcl1:

Myeloid cell leukemia 1
MDM2:

Mouse double minute 2 homolog
miRNAs:

MicroRNAs
MMP-2:

Matrix metallopeptidase 2
MMP-9:

Matrix metallopeptidase 9
mSIN1:

Mammalian stress-activated protein kinase interacting protein
mTOR:

Mammalian target of rapamycin
N-ERMAD:

N-terminal ezrin/radixin/moesin (ERM) associated domain
NEXT:

Notch extracellular truncation
NF-κB:

Nuclear factor-κB
NICD:

Notch intracellular domain
NKD2:

Naked cuticle homolog-2 gene
NRR:

Negative regulatory region
PDK1:

Phosphoinositide-dependent kinase 1
PEN-2:

Presenilin enhancer-2
PIP2:

Phosphatidylinositol 4, 5-biphosphate
PIP3:

Phosphatidylinositol 3,4,5-triphosphate
PRAS40:

Proline rich AKT substrate
PTCH1:

Patched 1
PTCH2:

Patched 2
Raptor:

Regulatory associated protein of mTOR
RBPJ/CBF1:

Recombination signaling binding protein of hairless-J
Rheb:

Ras homolog enriched in brain
RLN2:

H2 relaxin
ROS:

Reactive oxygen species
S6K:

S6 kinases
Ser473:

Serine 473
SFN:

Sulforaphane
Shc:

Src homology 2 domain-containing
SHh:

Sonic hedgehog
sIL-6R:

Soluble form of IL-6R
SMO:

Smoothened
SOCS:

Suppressors of cytokine signaling
STAT:

Signal transducer and activator of the transcription
TACE/ADAM17/CD156q:

Tumor necrosis factor-alpha converting enzyme
Thr308:

Threonine 308
Tsc:

Tuberous sclerosis complex
TYK2:

Tyrosine kinase 2
VEGF:

Vascular endothelial growth factor
β-Trcp:

Beta-transducin repeat containing E3 ubiquitin protein ligase
Declarations
Acknowledgements
Not applicable.
Funding
This work was supported by Midwest Cancer Alliance, Partner's Advisory Board Funding.
Availability of data and materials
Not applicable.
Authors' contributions
PA and GK drafted the manuscript. DS, KC, KN, PD, and SA discussed and revised the manuscript. GK designed the figures. PD designed the table. We thank members of the Anant laboratory for their discussion during the course of this study. SA is an Eminent Scientist of the Kansas Biosciences Authority. All authors read and approved the final manuscript.
Competing interests
The authors declare that the research was conducted in the absence of any commercial or financial relationships that could be construed as a potential conflict of interest.
Consent for publication
Not applicable.
Ethics approval and consent to participate
Not applicable.
Open AccessThis article is distributed under the terms of the Creative Commons Attribution 4.0 International License (http://creativecommons.org/licenses/by/4.0/), which permits unrestricted use, distribution, and reproduction in any medium, provided you give appropriate credit to the original author(s) and the source, provide a link to the Creative Commons license, and indicate if changes were made. The Creative Commons Public Domain Dedication waiver (http://creativecommons.org/publicdomain/zero/1.0/) applies to the data made available in this article, unless otherwise stated.
Authors' Affiliations
(1)
Division of Hematology and Oncology, Children's Mercy Hospital, Kansas City, USA
(2)
Department of Surgery, The University of Kansas Medical Center, Kansas City, USA
(3)
The University of Kansas Cancer Center, The University of Kansas Medical Center, Kansas City, USA
(4)
Division of Hematology and Oncology, Arkansas Children's Hospital, Little Rock, USA