Novel immunotherapies for adult patients with B-lineage acute lymphoblastic leukemia
Journal of Hematology & Oncology
2017
10:150
Received: 12 June 2017
Accepted: 7 August 2017
Published: 18 August 2017
Abstract
The past decade witnessed the rapid development of adult B-lineage acute lymphoblastic leukemia (ALL) treatment. Beyond the development of chemotherapy regimens, immunotherapy is starting a new era with unprecedented complete remission (CR) rate. Targeting B-lineage-specific surface markers such as CD19, CD20, CD22, or CD52, immunotherapy has been demonstrating promising clinical results. Among the immunotherapeutic methods, naked monoclonal antibodies (mAbs), antibody-drug conjugate (ADC), bispecific T cell engager (BiTE), and chimeric antigen receptor (CAR) T cells are the main types. In this review, we will examine the emerging preclinical and clinical development on (1) anti-CD20 naked mAbs rituximab, ofatumumab, and obinutuzumab; (2) anti-CD19 ADCs SAR3419 and SGN-CD19A and anti-CD19 BiTE blinatumomab; (3) anti-CD22 naked mAb epratuzumab and anti-CD22 ADC inotuzumab ozogamicin; (4) anti-CD52 naked mAb alemtuzumab; and (5) anti-CD19 CAR T cells. We will discuss their efficacy, adverse effects, as well as future development.
Background
For children with B cell acute lymphoblastic leukemia (B ALL), current chemotherapy regimens can achieve long-term overall survival (OS) of 80–90%. However, similar results have not been seen in adults. Despite a high initial complete response (CR) rate of 80–90%, most of the adults will eventually relapse with chemotherapy-resistant disease. Long-term OS in adults with B ALL remains in the range of 30–50%; the prognosis of relapsed or refractory (R/R) ALL is even more dismal with a 5-year OS of only 10% [1, 2]. For R/R ALL patients, the only option to achieve long-term survival is allogeneic hematopoietic stem cell transplantation (allo-HSCT), which requires reinduction chemotherapy prior to the transplantation. The chemotherapy in the context, however, is generally poorly tolerated with unsatisfied outcomes, as only 5 to 10% patients can be bridged to allo-HSCT [3]. Although a few new cytotoxic drugs have been approved over the last decade such as clofarabine and liposomal vincristine, the low single-agent response rates (17% with clofarabine monotherapy, 20% with liposomal vincristine monotherapy) still emphasize an urgent need for different alternative treatment strategies in R/R adult ALL [4, 5].
Altogether, four types of immunotherapies have been developed to date, including naked monoclonal antibodies (mAbs) (such as rituximab, epratuzumab, and alemtuzumab), conjugated monoclonal antibodies (such as inotuzumab ozogamicin, SAR3419, and SGN-CD19A), bispecific T cell engager (BiTE) (such as blinatumomab), and chimeric antigen receptor (CAR) T cell therapy (Fig.
1
). Naked monoclonal antibodies exert their cytotoxic effects through mechanisms such as antibody-dependent cytotoxicity, complement-dependent cytotoxicity, and direct induction of apoptosis; moreover, direct blocking of leukemic cell receptors can lead to cell death if the signalings through the receptors are crucial for leukemic cell to survive. If a surface marker is known to internalize upon binding (such as CD19 and CD22), potent cytotoxins can be conjugated to the monoclonal antibody, resulting in an additional cytotoxic mechanism. BiTE conjugates two monoclonal antibodies recognizing leukemic cell and cytotoxic T cells (CTLs) and exerts its effects by specifically bridging CTLs and leukemic cells. CAR T cells utilizes engineered T cells by introducing leukemic cell-targeting single-chain variant fragment (scFv) chimerized with intracellular T cell activation domains. Both BiTE and CAR T cells lead to leukemic cell killing in mechanisms similar to cancer-specific CTLs, including releasing of cytotoxic granules, activation of death-related receptors, and releasing of cytokines. Compared with CAR T cell therapy, naked/conjugated mAbs and BiTE are more readily available and easier to manufacture; however, CAR T cell therapy as a "living drug" is more durable and repeat infusions are usually not needed. Based on clinical data, BiTE and CAR T cell therapy are more potent and generate better outcomes than naked/conjugated mAbs; however, these two modalities are associated with more severe side effects, such as cytokine release syndrome (CRS), and adverse neurologic events. In this review, we will discuss clinical and pre-clinical results of these different modalities in treating B ALL, focusing on the efficacy (Table
1
) and the side effects (Table
2
).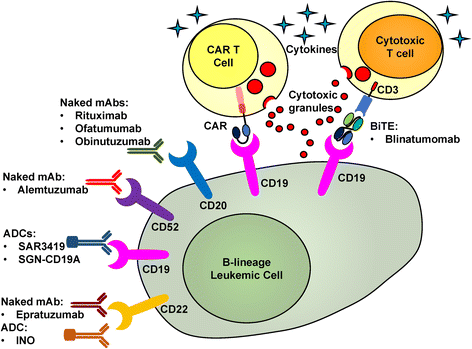 Table 1
Major clinical trials on monoclonal antibodies treating acute lymphoblastic leukemia
Targets

Medications

Patients

Regimens

Outcome

Study

CD20

Rituximab

216 pts with de novo Ph-negative B ALL; median age was 46 years (range, 16–84)

Combination of hyper-CVAD plus rituximab

CRD and OS were better with the combination of hyper-CVAD plus rituximab than with hyper-CVAD alone (69 vs 38%; P < .001 and 71 vs 47%, P = .003) for the younger pts (age < 60 years)

Phase III [8]

220 pts aged 18–59 years old with newly diagnosed CD20-positive Ph-negative B cell precursor (BCP) ALL

Rituximab (375 mg/m2) was added to pediatric-inspired GRAALL protocol from induction to the first year of maintenance for a total of 16 to 18 infusions

After induction ± salvage reinduction, CR rate was 92 and 91% in the rituximab and control arm. Pts treated in the rituximab arm had a lower CIR (2-year CIR, 18 vs 30.5% in the control arm; p = 0.02) and longer EFS (2-year EFS, 65 vs 52% in the control arm; p = 0.038), but not longer OS (2-year OS, 71 vs 64% in the control arm; p = 0.095)

Phase III [9]

Ofatumumab

55 pts with de novo ALL and 4 pts in CR previously treated; median age was 41 years (18–71)

Hyper-CVAD in combination with ofatumumab

Ofatumumab given on courses 1 and 3, and 4 courses of MTX-Ara-C

98% CR rate after cycle 1, 53 (93%) pts achieved MRD negativity.

The 3-year CRD and OS rates were 78 and 68%, respectively

Phase II [13]

CD19

Blinatumomab

116 pts with Ph-negative BCP ALL with hematologic CR and MRD ≥ 10− 3 after ≥ 3 intensive chemotherapy treatments;

Median age was 45 years (18–76)

4-week continuous IV infusion, followed by a 2-week break (1 cycle). MRD responders in cycle 1 received up to 3 additional cycles or underwent HSCT

Complete MRD response after the first cycle was 78%; complete MRD response rate was 80%. Median OS and RFS were 18.9 and 36.5 months, respectively

Phase II [26]

36 pts with R/R pre-B ALL; median age was 32 years (18–77)

4-week continuous infusion followed by a 2-week interval

69% hematologic response and 88% of the responders also obtaining a molecular response (MRD level below 10− 4 by PCR) within the first 2 cycles

Phase II [27]

CD22

Epratuzumab

30 pts with R/R CD22+ B ALL; median age was 35 years (21–59)

360 mg/m2/day on days 1, 8, 15, and 22, combined with hyper-CVAD

The ORR was 50% including 9 CR (30%), 1 CRi (3%), and 5 PR (17%). All pts have died (during aplasia n = 3, progression n = 23, multiple organ failure n = 1), except the 3 responders still in CR, but yet recently enrolled

Phase II [37]

31 pts with R/R Ph-negative B ALL. Median age was 41 years (21–69)

Clofarabine 40 mg/m2/day on days 2–6, cytarabine 1 g/m2/day on days 1–5, epratuzumab 360 mg/m2/day on days 7, 14, 21, and 28

10 pts achieved CR and 6 achieved CRi for a CR/CRi rate of 52%. The median OS was 5 months

Phase II [38]

Inotuzumab ozogamicin

90 pts with R/R pre-B ALL; median age was 39.5 years (range 4–84)

INO single-dose at 1.8 mg/m2 every 3–4 weeks, n = 49; INO weekly at 0.8 mg/m2 on day 1 and at 0.5 mg/m2 on days 8 and 15, every 3 to 4 weeks, n = 41

17 pts (19%) CR, 27 (30%) CRp, and 8 (9%) marrow CR (no recovery of counts). ORR was 58%. Response rates were similar single dose and weekly dose (57 vs 59%). The median survival was 6.2 months: 5.0 months with single dose and 7.3 months with weekly dose

Phase II [40]

326 CD22-positive, R/R ALL pts underwent randomization, the first 218 (109 in each group) were included in the analysis of complete remission

INO group: INO (0.8–0.5 mg/m2, weekly, 3 times per cycle; cycle length, 21–28 days; total number of cycles, 6); standard intensive chemotherapy: FLAG for up to 4 cycles, cytarabine plus mitoxantrone for up to 4 cycles, or high-dose cytarabine for up to 1 cycle

CR rate was higher with INO than with standard therapy (80.7 vs. 29.4% p < 0.001) and a higher percentage of pts in the INO group achieved < 0.01% MRD (78.4 vs. 28.1%, P < 0.001). Both PFS and OS were longer with INO (median PFS, 5.0 vs. 1.8 months, P < 0.001; median OS, 7.7 vs. 6.7 months, P = 0.04)

Phase III [41]

57 pts with R/R CD22+ B ALL received mini-hyper-CVD regimen

Mini-hyper-CVD regimen plus INO administered on day 3 of each of the first 4 cycles, rituximab (in pts whose cells were CD20-positive) and intrathecal chemotherapy were given for the first 4 courses

The ORR was 71%: 31 (53%) CR, 13 (23%) CRp, and 1 (2%) CRi.

27 (47%) pts proceeded to receive allo-HSCT. Pts who were treated with mini-hyper-CVD plus INO had a higher PFS rate and improved OS compared to a historical cohort with single-agent INO in R/R ALL (2-year PFS; 52 vs 36%; p = 0.20: 2-year OS; 44 vs. 25%; p = 0.01)

Phase II [42]

46 pts ≥ 60 years with newly diagnosed B cell ALL. Median age is 68 years (60–81)

Mini-hyper-CVD regimen plus INO given on day 3 of each of the first 4 cycles. Rituximab (in pts whose cells were CD20-positive) and intrathecal chemotherapy were given for the first 4 courses

Of the 42 pts evaluable for response, 40 (95%) achieved CR/CRp (35 CR, 5 CRp). Of the 44 pts assessed for MRD, 41 (93%) achieved negative MRD (71% of them at CR). The mini-hyper-CVD + InO +/− rituximab (n = 46) results appear superior to the historical data with HCVAD +/− rituximab (n = 46) (3-year OS of 52 and 36%, respectively, p = 0.05).

Phase II [43]

CD52

Alemtuzumab

24 pts with de novo ALL in CR1. Median age was 37 years (18–77)

A target dose of 30 mg administered 3 times per week for 4 weeks (12 doses) during post-remission therapy

Of 11 pts assessed for MRD, 8 had a 1-log reduction. After 51 months of follow-up, median OS was 55 months and DFS was 53 months

Phase I [44]

12 pts with relapsed (n = 11) or refractory (n = 1) ALL, including four relapses post-HSCT

Alemtuzumab combined with granulocyte-colony stimulating factor (G-CSF)

4 of 12 pts achieved CR, but all pts progressed within a few months and all but one died

Phase II [45]
Table 2
Common side effects of different immunotherapies
Targets

Medications

Side effects

CD20

Rituximab

Most common side effect is mild to moderate infusion reactions. Rare cases of severe mucocutaneous reactions, HBV reactivation, and progressive multifocal leukoencephalopathy

Ofatumumab

Primarily grade 1 or 2 infusion reactions or infections

CD19

SAR3419

Dose-limiting reversible severe vision changes associated with corneal changes

SGN-CD19A

Superficial microcystic keratopathy

Blinatumomab

Fever, chills, and hypogammaglobulinemia are common. Serious side effects include CRS and neurotoxicity

CD22

Epratuzumab

Seizure, liver toxicity

INO

Liver toxicity, veno-occlusive disease in transplant patients

CD52

Alemtuzumab

Severe neutropenia, CMV viremia
Conclusions
With the rapid development of naked monoclonal antibodies, antibody-drug conjugates, bispecific T cell engagers, and adoptive T cell therapies, the era of R/R ALL treatment is fast forwarding. CD19, CD20, CD22, and CD52 are the main markers presented in the majority of B ALL patients and thus are targeted in immunotherapies. With CAR T therapy moving to the market, achieving higher CR rates than frontline chemotherapies or even chemotherapies combined with mAbs, the roles of mAbs need to be newly defined. Monoclonal antibodies may still play important roles in induction therapy of ALL due to their availability and relatively safe profile. In the future, immunotherapies may substitute or allow a lower dose of chemotherapy to achieve long-term remission in ALL patients, even in those with poor performance status who are otherwise ineligible for traditional chemotherapy. Despite high remission rate that could be achieved by the aforementioned therapies, relapse still remains as the major problem. As the choices of targeted and immune therapies increase, we must look beyond high remission rates and search for the strategies to prevent relapse and reduce toxicities.
Abbreviations
ADC:

Antibody-drug conjugate
ADCC:

Antibody-dependent cell-mediated cytotoxicity
ALL:

Acute lymphoblastic leukemia
BiTE:

Bispecific T cell engager
CAR:

Chimeric antigen receptor
CDC:

Complement-dependent cytotoxicity
CR:

Complete remission
CRi:

Complete remission with incomplete blood cell count recovery
CRp:

Complete remission with incomplete platelet recovery
CRS:

Cytokine release syndrome
EFS:

Event-free survival
HR:

Hazard ratio
HSCT:

Hematopoietic stem cell transplantation
INO:

Inotuzumab ozogamicin
mAb:

Monoclonal antibody
MRD:

Minimal residual disease
ORR:

Overall response rate
OS:

Overall survival
R/R:

Refractory/relapsed
RFS:

Relapse-free survival
Declarations
Funding
This work was jointly supported by the Zhejiang Province Natural Science Funds (LY13H080002) and National Natural Science Funds of China (81470307).
Availability of data and materials
Data sharing is not applicable to this article as no datasets were generated or analyzed during the current study.
Authors' contributions
GW, JW, and YZ drafted the manuscript. HH helped to review the manuscript. All authors read and approved the final manuscript.
Ethics approval and consent to participate
N/A
Consent for publication
N/A
Competing interests
The authors declare that they have no competing interests.
Publisher's Note
Springer Nature remains neutral with regard to jurisdictional claims in published maps and institutional affiliations.
Open AccessThis article is distributed under the terms of the Creative Commons Attribution 4.0 International License (http://creativecommons.org/licenses/by/4.0/), which permits unrestricted use, distribution, and reproduction in any medium, provided you give appropriate credit to the original author(s) and the source, provide a link to the Creative Commons license, and indicate if changes were made. The Creative Commons Public Domain Dedication waiver (http://creativecommons.org/publicdomain/zero/1.0/) applies to the data made available in this article, unless otherwise stated.
Authors' Affiliations
(1)
Bone Marrow Transplantation Center, The First Affiliated Hospital, School of Medicine, Zhejiang University, Hangzhou, China