The biology and role of CD44 in cancer progression: therapeutic implications
Journal of Hematology & Oncology
2018
11:64
Received: 20 March 2018
Accepted: 26 April 2018
Published: 10 May 2018
Abstract
CD44, a non-kinase transmembrane glycoprotein, is overexpressed in several cell types including cancer stem cells and frequently shows alternative spliced variants that are thought to play a role in cancer development and progression. Hyaluronan, the main ligand for CD44, binds to and activates CD44 resulting in activation of cell signaling pathways that induces cell proliferation, increases cell survival, modulates cytoskeletal changes, and enhances cellular motility. The different functional roles of CD44 standard (CD44s) and specific CD44 variant (CD44v) isoforms are not fully understood. CD44v contain additional peptide motifs that can interact with and sequester growth factors and cytokines at the cell surface thereby functioning as coreceptors to facilitate cell signaling. Moreover, CD44v were expressed in metastasized tumors, whereas switching between CD44v and CD44s may play a role in regulating epithelial to mesenchymal transition (EMT) and in the adaptive plasticity of cancer cells. Here, we review current data on the structural and functional properties of CD44, the known roles for CD44 in tumorigencity, the regulation of CD44 expression, and the potential for targeting CD44 for cancer therapy.
Keywords
CD44
Cancer
Signaling transduction
Tumorigenicity
Epithelial to mesenchymal transition (EMT)
Cancer therapy
Background
CD44 is a family of non-kinase, single span transmembrane glycoproteins expressed on embryonic stem cells and in various levels on other cell types including connective tissues and bone marrow [1, 2]. CD44 expression is also upregulated in subpopulations of cancer cells and is recognized as a molecular marker for cancer stem cells (CSC) [3]. In humans, CD44 is encoded by 19 exons with 10 of these exons constant in all isoforms. The standard form of CD44 (CD44s) is encoded by the ten constant exons. CD44 variant isoforms (CD44v) is generated by alternative splicing and possess the ten constant exons and any combination of the remaining nine variant exons [4, 5].
The main ligand for CD44 is hyaluronic acid (HA), an abundant component of the extracellular matrix (ECM) that is expressed by stromal and cancer cells [6]. HA binds the CD44 ligand binding domain inducing conformational changes that allow binding of adaptor proteins or cytoskeletal elements to intracellular domains that in turn activate various signaling pathways leading to cell proliferation, adhesion, migration, and invasion [7, 8]. CD44s and various CD44v isoforms have overlapping and distinct functional roles. CD44v isoforms have additional binding motifs that promote the interaction of CD44 with molecules in the microenvironment [9]. CD44v isoforms can act as co-receptors by binding/sequestering growth factors on the cell surface and presenting these to their specific receptors [10]. Cancer cells that undergo an epithelial to mesenchymal transition (EMT) acquire stem cell-like properties and show an increase in CD44 expression [11]. Moreover, cancer cells with an EMT phenotype show increased invasiveness and are more resistant to chemotherapy [12].
The clinicopathological impacts of CD44s and its isoforms in promoting tumorigenesis suggest that CD44 may be a molecular target for cancer therapy (13). In addition, the established role of CD44 in maintaining stemness and the function of cancer stem cells in tumor regeneration following therapy suggests that CD44 may also be an important prognostic marker. Therapeutic strategies that target CD44 or reduce CD44 expression are in various stages of clinical development [13–15]. These strategies include CD44 neutralizing antibodies, tumor delivery of shRNAs, ectodomain mimics, and aptamers [14, 16–18]. Thus, an important area of investigation is to further define the functional roles of CD44 isoforms in cancer and to determine the potential benefits of targeting these CD44 isoforms or their signaling pathways for cancer therapy.
Structure and function of CD44
Exon composition and functional domains of CD44
CD44, a non-kinase transmembrane proteoglycan, is a single-chain glycoprotein encoded by one gene located on chromosome 11 in humans and on chromosome 2 in mice. The CD44 gene is comprised of 19 exons in humans and 20 in mice; a homolog of exon 6 or variant 1 is not found in humans [19]. The first five and the last five exons are constant and encode the shortest isoform of CD44 (85–95 kDa) called CD44 standard (CD44s). The middle nine exons can be alternatively spliced and assembled with the ten exons contained in the CD44 standard isoform and are referred to as CD44 variant isoforms (CD44v).
CD44v isoforms can be inserted as a single variant exon or combined with other variant exons that code for peptides located in the juxta membrane domain. The encoded CD44 peptide can be further modified by N- and O-linked glycosylation and glycosaminoglycanation by addition of heparin sulfate or chondroitin sulfate [
20
,
21
]. CD44 has extracellular domains, a membrane-proximal region, a transmembrane domain, and a cytoplasmic tail [
22
]. An illustration of the CD44 gene showing CD44s and CD44v exons and the functional domains and the position of peptides coded by variant exons are illustrated in Fig.
1
.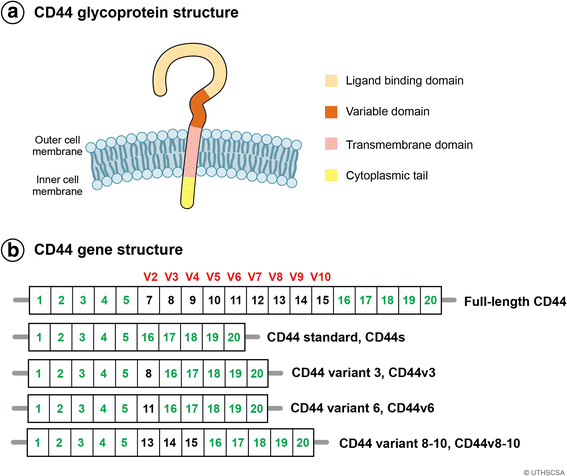 CD44 ligands and interacting molecules
CD44 binds to several ligands including hyaluronic acid (HA), osteopontin (OPN) [23], chondroitin [24], collagen [25], fibronectin [26], and serglycin/sulfated proteoglycan [27].
HA is the most specific ligand for CD44 activation. All isoforms of CD44 possess a HA-binding domain located in N-terminal region of the extracellular domain (Fig. 1). HA is a major extracellular matrix component expressed by stromal and tumor cells. HA is a linear glycosaminoglycan consisting of repeating disaccharide units of d-glucuronic acid and N-acetyl-d-glucosamine and is expressed in various molecular sizes up to 107 kDa. HA binding to CD44 causes conformational changes favoring the binding of adaptor molecules to the intracellular cytoplasmic tail of CD44 leading to cell signaling that enhances cell adhesion, migration, and proliferation [7]. The pathways activated through CD44-HA binding include Ras, MAPK, and PI3K [28]. CD44 binding to HA is cell specific and depends on the activation state of CD44; when HA interacts with CD44, CD44 proteins exist in three scenarios: non-bound to HA, non-bound to HA unless activated by physiological stimuli, or constitutive binding to HA [29]. In breast tumor cells, HA activation of CD44 leads to the expression of multidrug resistance gene (P-glycoprotein) and anti-apoptotic gene Bcl expression, which promotes tumor cell proliferation and survival [30]. Pancreatic cancer cells (MiaPaCa-2) secrete hyaluronidases abundantly and generate readily detectable levels of low molecular weight HA ranging from 10- to 40-mers without any exogenous stimulation. Hyaluronidase-mediated degradation plays a major role in HA oligosaccharide generation in these cells. The tumor-derived HA oligosaccharides enhance CD44 intracellular cleavage and tumor cell motility. Inhibition of CD44-HA interaction results in abrogation of tumor cell motility [31]. Bladder cancer cells transfected with anti-sense to hyaluronic synthases1 (HAS1) showed downregulation in expression of CD44v3, CD44v6, and CD44s both at mRNA and the protein levels indicating that HAS1 regulates the growth of bladder cancer cells by modulating HA synthesis and HA receptor levels [32].
Versican (VCAN) is a chondroitin sulfate proteoglycan that binds to HA leading to structural aggregations of these molecules [33]. VCAN is secreted by the fibroblasts of the tumor-associated stroma and by cancer cells [34]. The carboxyl-terminal domain of VCAN interacts with the β1 integrin of glioma cells, activating focal adhesion kinase (FAK), promoting cell adhesion and preventing apoptosis [35]. Expression of VCAN is increased significantly in breast carcinomas that have malignant-appearing microcalcifications (MAMCs) and mammographic density (MD) as compared to normal breast tissue with MAMCs and MD and normal breast tissue without mammographic findings. MAMCs and MD represent the earliest mammographic findings of non-palpable breast carcinomas. Elevated level of VCAN correlated with higher tumor grade and invasiveness in carcinomas with MD and MAMCs [36]. Artificial expression of versican in different level affects the malignant phenotype of cultured human osteosarcoma cells. Upon binding to leiomyosarcoma cells surface CD44, proliferation of globular domain of VCAN-overexpressing cells were dose dependently inhibited by exogenous HA fragments [37]. TGF-β enhanced the aggressiveness of ovarian cancer cells by upregulating VCAN in cancer-associated fibroblasts (CAF). TGF-β receptor-dependent SMAD signaling transduction regulated VCAN expression in CAFs. Upregulated VCAN promoted the motility and invasion of ovarian cancer cells by upregulating expression of CD44 and receptor of hyaluronic acid-mediated motility (RHAMM) [38]. Thus, interrupting HA-CD44 binding through VCAN may change the proteoglycan enrichment in the tumor lesion to reduce tumor growth or metastasis in cancers.
Osteopontin (OPN) also binds to CD44 inducing cell signaling that mediates tumor progression and metastasis [23]. The expression of OPN and CD44v6 correlated positively in 159 non-small cell lung cancers [39]. Strong correlation of OPN and CD44 expression was detected in 243 gastric cancer patients' tissues [40]. OPN shared a perivascular expression pattern with CD44 and promoted glioma stem cell-like phenotypes. OPN promotes stem cell-like properties and radiation resistance in adjacent tumor cells via activation of CD44 signaling [41]. CD44-positive colorectal cancer cells co-cultured with macrophages produced higher levels of OPN that facilitated tumorigenicity and clonogenicity. The knock-down of CD44 or inhibitory antibody of CD44 attenuated OPN secretion preventing OPN-activated c-jun-NH2-kinase signaling resulting in a decrease in clonogenicity of colorectal cancer cells [42].
Serglycin binds to CD44 as its ligand in hematopoietic cells [27]. Glycosaminoglycans composed of chondroitin sulfate are attached to serglycin and may facilitate CD44 binding. The chondroitin sulfate (CS)-type serglycin capable of binding CD44 is secreted by hematopoietic cells including malignant cell lines and normal cells. The expression of serglycin and CD44 core proteins enhanced in breast cancer cells and CS-E subunit attaches to CD44 to promote and regulate breast cancer progression [43]. Therefore, glycosaminoglycan modifying the CD44 binding serglycin differs from one cell type to another [44].
CS is a ligand for CD44 [43] and it protects chronic lymphocytic leukemia (CLL) cells from apoptosis [45]. Combination of CS with gemcitabine strongly inhibited human bladder cancer cells growth [46]. CS-g-poly copolymers can be self-assembled into micelles in water and then used to encapsulate camptothecin. The micellar internalization into lung cancer cells was through CD44 and clathrin dual-mediated endocytosis. The cell killing and apoptosis-inducing effects were better than using drug alone against non-small cell lung cancers in vitro and in vivo [47].
Fibrin is a CD44 ligand in colon carcinoma cells. Platelet-derived growth factor (PDGF) enhanced the adhesion of CD44v-coated beads to immobilized fibrin. PDGF also augmented the binding of CD44v to fibrin by attenuating CD44 sulfation on chondroitin and dermatan sulfate chains. PDGF moderately reduced the sulfation of CD44s and CD44s-fibrin recognition [48].
Several distinct CD44 isoforms co-precipitated with MMP-9 in mouse mammary carcinoma and human melanoma cells and this interaction is believed to help localize MMP-9 to the cell surface. The role of CD44 in promoting tumor invasion may be mediated in part by this binding proteolytically active MMP-9 at the membrane [49]. Rounded-amoeboid melanoma cells secrete higher levels of several matrix metalloproteinases (MMPs) and they degrade collagen I more efficiently than elongated-mesenchymal cells. MMP-9 promoted rounded-amoeboid 3D migration through regulation of actomyosin contractility via CD44 receptor using a non-catalytic mechanism [50].
Fibronectin binds to CD44 indirectly. HA-bound CD44 interacts with fibronectin in the ECM of induced myofibrolasts. Inhibiting HA synthesis promotes fibronectin and collagen deposition [51]. Advanced stage of human colorectal cancer patients show substantially higher levels of fibronectin extra domain A (EDA) in tumor tissue and serum. CD133+/CD44+ cells expressed significantly elevated EDA receptor than its double negative cells. Silencing EDA in colon cancer SW480 cells reduced spheroid formation and reduced double positive CD133+/CD44+ cells. Fibronectin EDA may promote tumorigenesis by sustaining the properties of CD133+/CD44+ colon cancer cells [52]. The predominant CD44 splice variant in prostate cancer-bound fibronectin required HA bound to CD44 [53].
Functional significance of CD44 isoforms in cancer cells
The roles that CD44 isoforms expression plays in the pathogenesis of cancer are under investigation. Separate isoforms possess overlapping and distinct cellular functions. CD44 can undergo isoform switching in tumor cells as demonstrated by Brown and colleagues [54]. They showed that induction of EMT required a switch in CD44v to CD44s isoform expression. In agreement with isoform switching, our lab recently demonstrated in pancreatic cancer cells that an EMT phenotype was dependent on upregulation of CD44 expression with CD44s being the most prevalent isoform [12]. Other studies indicated that CD44v isoforms were expressed in metastasis in several types of solid tumors [55–57, 15] and were associated with poorer prognosis [58, 59]. This review, although not comprehensive, will discuss some the major studies related to the functional significance of CD44 isoforms.
The different CD44v isoforms encode additional peptides that are inserted in the juxta membrane domain and these cause both conformational changes and provide binding sites for molecules including cytokines and growth factors. It is clear that these different binding motifs influence biologic activity of CD44. Sorting through the functional roles of CD44 isoforms is complicated by the finding that tumor cells may express multiple CD44v isoforms and that these are found in different levels of expression. Many studies related to tumor type, metastasis, and prognosis are correlative and a list of some of these although not comprehensive is shown in Table
1
. An overview of these studies is discussed below in relation to different tumor types.
Table 1
The significance and function of CD44 isoforms
| CD44 isoforms | Biological functions | Cancer types | References |
| --- | --- | --- | --- |
| CD44s | Tumor growth, metastasis, low survival rate | Pancreatic cancer | [13] |
| CD44s | Progression | Breast cancer | [54] |
| CD44v3 | Migration, overexpressed in tumor tissue | Head and neck squamous cell carcinoma | [80] |
| CD44v3 | Proliferation and cisplatin resistance | Head and neck squamous cell carcinoma | [81] |
| CD44v4, CD44v5 | Lung metastasis loci | Pancreatic cancer | [68] |
| CD44v6 | Metastasis; association with liver metastasis | Pancreatic cancer | |
| CD44v6 | Epithelial phenotype cells expression | Prostate cancer | [75] |
| CD44v6 | Tumorigenic and chemoresistance | Prostate cancer | [57] |
| CD44v6 | Migration, metastasis, advanced stage of tumor | Colorectal adenocarcinomas | |
| CD44v6 | Metastasis | Colon cancer | [15] |
| CD44v6,CD44v9 | Correlates with lymph node metastasis, liver metastasis, and TNM stage | Pancreatic cancer | [56] |
| CD44v9 | Lower survival rate, correlates with lymph node/liver metastasis, and TNM stage | Pancreatic cancer | [56] |
| CD44v9 | Associated with worse prognosis, contributed to EMT-mediated invasion and migration | Bladder cancer | [200] |
| CD44v9 | Inhibited assembly of p-cMet, AR, HSP90, P110α/PI3K, and CD44 into lipid raft like structures | Prostate cancer | [76] |
| CD44v4-10 | Promoted adenoma initiation in Apc(Min/+)mice, tumor initiation | Colorectal cancer | [88] |
| CD44v8-10 | Tumor initiation | Gastric cancer | [89] |
| CD44v8-10 | Lung metastasis | Breast cancer | [70] |
| CD44v (v6-10,v7-10,v8-10) | Correlative study of CD44v expression on transgenic Gan mice | Gastric tumor | [86] |
| CD44v8-10 overexpression | Enhance chronic phase CML progenitor replacing capacity | Leukemia | [201] |
| CD44, isoforms not specified | Correlative study of CD44 expression on malignant stage | Prostate cancer | [73] |
| CD44, isoforms not specified | Increased colony formation, invasion | Prostate cancer | [79] |
| CD44, isoforms not specified | Poor prognosis, low survival rate, metastasis | Pancreatic cancer | [69] |
Regulation of CD44
Because of the contribution of CD44 to cancer cell function; it is important to understand how CD44 expression is regulated. Emerging data show that specific signaling networks can induce CD44 expression. Specific transcriptional repressors and activators have been identified to regulate CD44 promoter activity. Moreover, epigenetic mechanisms and miRNAs are implicated in regulating CD44 expression. Understanding the mechanisms of regulating CD44 expression may provide molecular targets that could be used to modulate CD44 expression as a means of mitigating CD44 oncogenic function. Several representative regulatory mechanisms are shown below in Fig.
2
.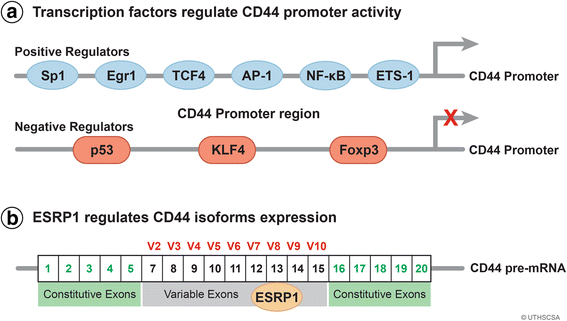 Molecular targets of CD44 activation
CD44 mediates multiple signaling pathways including protein kinases, cytoskeletal changes, intracellular pathways, proteinases, and transcriptional factors to contribute cancer cell division, proliferation, invasion, and angiogenesis as well as metabolic shift (Fig.
4
).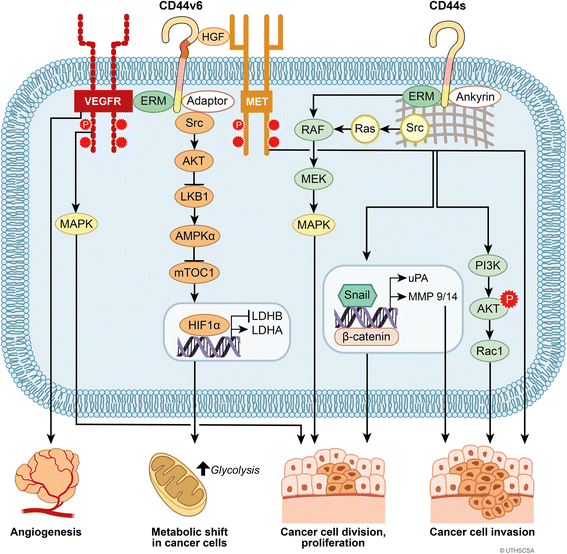 Protein kinases
CD44 activation was attributed to the activation of protein kinase pathways. The activation of these pathways played a role in promoting drug resistance, tumor invasiveness, and other oncogenic properties. Although CD44 lacks kinase activity, there are several mechanisms by which CD44 can activate protein kinases.
CD44 acts as a co-receptor by binding and sequestering growth factors at the cell surface and helps to stabilize tyrosine kinase receptor (RTK) complexes [120]. For example, CD44v6 contains an extracellular peptide domain that binds to HGF, the ligand for c-Met. This binding motif is coded by exon v6 of the CD44 gene. The sequestered HGF bound to CD44v6 is presented to and activates c-Met [10]. Neutralizing antibodies to CD44v6 inhibit c-Met activation. CD44v6 and VEGFR-2 form a constitutive complex that can be detected by co-IP. A CD44v6-specific peptide as well as a CD44v6 neutralizing antibody blocked c-Met activation on endothelial cells and also abrogated VEGF-induced VEGFR-2 activation and downstream ERK activation [121]. Silencing of CD44v6 decreased phosphorylated ErbB2 in colon cancer cells suggesting that CD44v6 may play a role in the activation of this oncogenic pathway [122].
Activation of epidermal growth factor receptor (EGFR) promoted the CSC phenotype with CD44+/CD24-expression, associated with invasiveness in triple-negative breast cancers. ERK1/2 activation was necessary for EGFR-induced expansion of CD44+/CD24− cell populations. Sustained activation of ERK1/2 by overexpression of constitutively active MEK1 was sufficient to expand CD44+/CD24− cell populations in which EGFR activity was blocked by either Erlotinib, an EGFR kinase inhibitor, or BB-94, a metalloprotease inhibitor, suggested that metalloprotease-dependent activation of EGFR modulated CD44+/CD24− in triple-negative breast cancer cells through the MEK/ERK pathway [123]. Our lab also observed higher ERK1/2 activation in CD44-positive pancreatic cancer cells than in its counterpart of CD44 knock-down clones (unpublished data). CD44 also contributes to the activation of Kras-mediated signaling through MAPK pathway in lung cancer cell line models. In these cell line models, CD44 promotes tumor cell proliferation and cell survival. Moreover, deletion of CD44 conferred a survival advantage to mice expressing oncogenic KrasG12D in the lung. CD44 knock-down inhibited ERK 1/2 activation [124]. These findings suggest that ERK might be a CD44 downstream target. Transient knock-down of CD44 in human colon cancer cells resulted in upregulation of AKT, whereas overexpression of variant isoforms of CD44 such as v3-10 or v8-10 caused deactivation of AKT. Inhibition of phosphorylation of AKT downregulated cofillin expression and transient knock-down of CD44 decreased cofillin expression [125]. The expression and activity of cell migration-related proteins, including c-Src, paxillin, and FAK, were decreased by CD44 silencing [126]. CD44 may contribute to both the expression and the activation of non-receptor kinases such as the Src family, c-Abl, and Jak that control eukaryotic cell growth and differentiation. Silencing CD44 suppressed both mRNA and protein levels of c-Src and its downstream MAPK pathway. Retroviral-mediated CD44 knock-down decreased cell proliferation, migration, and invasion of breast cancer cells [126]. HA activation of CD44 caused an activation of c-Src in breast cancer cells [127]. CD44-mediated cell spreading and induced tyrosine phosphorylation were prevented by the Src kinase inhibitor, PP2 in murine BW5147 T lymphoma cells [128].
CD44 knock-down decreased the level of FGFR2 expression and inhibited gastric tumor growth, whereas CD44 activation led to upregulation in FGFR2 expression. In turn, FGFR2 kinase inhibitor or its neutralizing antibody decreased the numbers of CD44-positive cells. Conversely, FGFR2 overexpression increased CD44 expression and accelerated tumor growth in mice indicating the positive feedback mechanism in the regulation of CD44 and FGFR2 expression [129]. Silencing of CD44 in human breast cancer cell lines suppressed activation of a signaling axis involving c-Src/AKT/LKB1/AMPKɑ/HIF-1ɑ [71]. Collectively, these studies suggest that CD44 may act indirectly in regulating the expression of protein kinases and their ligands.
Cytoskeletal changes mediated by activated CD44
Conformational changes of CD44 as a result of ligand binding provide active sites for Ezrin-Radixin-Moesin (ERM) and other adaptor proteins that bind the cytoplasmic tail of CD44. ERM activation as a result of CD44 interaction initiates cross-talk with multiple pathways. For example, activation of c-Met requires sustained activation of CD44-dependent phosphorylated of ERM and Src signaling through the Ras-MAPK and the PI3K-AKT pathway [126, 130]. The binding of ERMs and adaptor proteins to the cytoplasmic portion of CD44 initiates changes in tumor cell cytoskeletal architecture and in cell signaling. CD44 extracellular domain was required for c-Met activation, whereas its cytoplasmic domain recruits ERM proteins that bind the cytoskeleton and promotes Ras activation [131]. In non-migrating cells, CD44 mainly localizes in rafts and Ezrin in nonraft compartments. During migration, CD44 interaction with threonine-phosphorylated ERM proteins in the nonraft compartments was increased. Pharmacological raft disruption increases colocalization of CD44-ezrin as determined by co-IP and colocalization studies [132].
Intracellular pathways, proteinases, and transcriptional factors
CD44 expression and isoform type is thought to modulate the activities of multiple cellular signaling components. Some examples of how CD44 influences the activities of cell signaling were listed and briefly discussed below.
Roles of CD44 in tumorigenicity
CD44 activating and modulating a number of cell signaling networks that play an important role in mediating tumorigenic properties of tumor cells leading to tumor progression, metastasis and chemoresistance.
EMT, invasion, and metastasis
CD44 is thought to play a role in the adaptive plasticity of cancer cells [12]. Adaptive plasticity of cancer cells is a term used to explain how a phenotypic change in response to the microenvironment that provides cancer cells a selective growth and survival capabilities. EMT is a form of adaptive plasticity and it is exemplified by a change from an epithelial to a mesenchymal-like phenotype and these cells show increase in motility, are more invasive, and are generally more resistant to apoptosis [11]. However, the development of metastatic lesions likely requires these cells to re-establish their epithelial state through the reverse mesenchymal to epithelial transition (MET), which is believed to favor tumor engraftment and growth of cancer cells at metastatic sites [141]. Major changes during EMT accompanied with loss of epithelial adhesion receptors like E-cadherin, occludin, claudins, and α-catenin as well as disassociation of β-catenin from adherents junctions. At the same time, there is upregulation of expression of molecules associated with a mesenchymal phenotype including vimentin, fibronectin, N-cadherin, and α-smooth muscle actin [93, 150]. This results in a change in cell shape and apico-basal polarity. The functional role of CD44 in EMT has been studied in several cancers. In colon cancer cells, a mesenchymal phenotype was associated with an increase in CD44 and knock-down of CD44 showed a decrease in EMT phenotype. Overexpression of CD44 downregulated E-cadherin expression, upregulated N-cadherin, α-actin, vimentin, fibronectin, and inhibited the formation of the membrane-associated E-cadherin-β-catenin complex, which resulted in cell invasion and migration. CD44 knock-down cells show a marked decreased migration and invasion, CD44 overexpressing cells showed significantly increased cell migratory and invasive capacity [151]. Expression of twist in breast cancer MCF7 and cervical cancer Hela cells induced EMT and the expansion of the cells that were CD44HighCD24Low, which is associated with cancer stem cell properties [106]. CD44 isoform switching from expressing CD44v to CD44s is essential for EMT and breast cancer progression [54]. Breast cancer cells with ectopic expression of ATF3 displayed more elongated and scattered phenotype and the percentage of CD24Low CD44High cell populations was increased [152]. These studies suggest CD44 isoforms expression positively correlates with mesenchymal phenotype and metastasis in variety cancers.
CD44 alternative splicing was differentially regulated during EMT, resulting in a switch in expression from CD44v to CD44s in human immortalized epithelial mammary cells and in a murine model of breast cancer progression [54]. CD44s isoform promotes EMT and its knock-down inhibits EMT. CD44s re-expression fully rescued the impaired EMT phenotype in the CD44-knock-down cells with decreased expression of epithelial markers E-cadherin and occludin and increased expression of mesenchymal markers N-cadherin and vimentin. ESRP1 regulates CD44 alternative splicing to promote exon inclusion of CD44 isoforms and is therefore required to regulate CD44v expression [118]. ESRP1 regulates CD44 posttranscriptionally by exerting a differential effect on protein translation via 5′-UTRs of mRNAs [119]. ESRP1 is expressed highly in cells with an epithelial phenotype. The decline in ESRP1 expression coincides with the switch in expression from CD44v to CD44s. ESRP1 negatively regulates EMT by preventing CD44 isoforms switch in breast cancer cells [54]. Knocking down ESRP1 in CD44v-expressing cells resulted in an isoform switch to CD44s, leading to suppression of lung colonization [70]. A study of 123 PDAC patients indicate that overall survival rate of the ESRP1-high group was significantly longer than that of the ESRP1-low group [153]. Our study show that epithelial like PDAC cells express high level of ESRP1 but mesenchymal like PDAC cells have little to none ESRP1 as detected by RT-PCR and Western blotting [12]. The expression of Snail and Zeb1 function as transcriptional repressors of ESRP1 and induces EMT [154, 155]. Snail-mediated ESRP1 repression results in a decrease in the levels of CD44v and an increase in production of the CD44s isoform, which drives EMT in breast cancer cells. Ectopic expression of ESRP1 inhibits Snail-induced EMT and that re-expression of CD44s isoform rescues the impaired mesenchymal phenotype. CD44 is a major splicing target downstream of ESRP1 during Snail-induced EMT [155].
We were recently able to separate cancer cells on the bases of CD44 expression level using flow cytometry [12]. This study showed that cells possessing an EMT phenotype expressed high levels of CD44s with lower levels of CD44 single exon variants. Mice with orthotopic implants of CD44s high cells formed tumors more rapidly and gradually developed resistance to gemcitabine, whereas tumors from CD44 low expressing cells took longer to grow and maintained sensitivity to gemcitabine over an extended period of time. However, tumors originated from CD44 high/EMT/chemoresistant cells showed expression of CD44v suggesting a dynamic switch of CD44 isoforms during tumor formation. Thus, CD44s may play a role in EMT and tumor spread and CD44v may play a role in tumor engraftment and growth [12].
CD44 and chemoresistance
CD44 and drug resistance of the cancer cells
The emergence of chemoresistant cancer cells may result from the expansion of a subpopulation of cancer cells that are inherently resistant or by reprograming or phenotypic changes of initially sensitive cancer cells induced by the stress of chemotherapy. We found that treating a pancreatic cancer cell line BxPC-3 with gemcitabine induces cells to undergo an EMT, to become more invasive, and to show a switch from expressing mainly low levels of CD44v to expressing high levels of CD44s [156]. This mesenchymal/CD44s phenotype was reversed after multiple passages following removal of gemcitabine. Chemotherapy or other environmental stresses may induce a CD44s high expressing phenotype that promotes survival and that are more invasive. Inhibiting or reversing the switch toward a mesenchymal phenotype may prove to be an important strategy for increasing the response to chemotherapy.
Clinical evidence showed a positive correlation between CD44 expression and breast cancer bone metastasis [157]. In vitro, knock-down of CD44s expression in breast cancer cell lines leads to markedly decreased number of tumor sphere formation in suspension cultures. Cell migration and invasion were suppressed by CD44s knock-down. Overexpression of CD44s increased tumor sphere formation and cell migration. In vivo, tumor formation was inhibited in mice orthotopically inoculated with CD44s knock-down cells. The number of osteoclasts decreased in the bone metastases of CD44s knock-down tumors [158]. These studies suggest cancer cells gaining acquired drug resistance tend to be accompanied with relatively higher expression of CD44s isoform.
Chemoresistance can be mediated through expression of P-glycoprotein (MDR1) coded by the multidrug resistance (MDR) gene. P-glycoprotein either reduces drug uptake or causes efflux of the drug out of cancer cells. MDR1 has also been linked to an increase in hyaluronan production in drug-sensitive tumor cells [159]. This study indicated that HA and CD44 binding constitutively activates phosphoinositide 3-kinase (PI3K)/AKT signaling, which enhanced P-glycoprotein activity in doxorubicin-resistant human breast carcinoma cells. Another study suggested HA, PI3K, and ErbB2 form a positive feedback loop to amplify MDR1 expression. HA and CD44 interaction activated an ErbB2-containing signaling complex, stimulating PI3K activity in multidrug-resistant human breast carcinoma cells. PI3K-activated AKT and downstream anti-apoptotic pathways contributing to drug resistance [160]. Transient knock-down CD44 from placenta-derived human mesenchymal stem cells suppressed the hyaluronan-substratum-induced drug resistance and resulted in fewer MDR1-positive cells [161]. Gemcitabine-resistant pancreatic cancer cells HPAC and CFPAC-1 were treated with serially escalated doses of gemcitabine. The resistant cells form greater numbers of colonies; they were also able to form more tumor spheres in serum-free medium than their counterpart parental cells. Those gemcitabine-resistant cells were more tumorigenic in vivo confirmed by subcutaneous xenografts. FACS analysis had shown that most of the repopulated cells after surviving high-dose gemcitabine were CD44 positive. These studies suggested that CD44 plays a role in chemoresistance although the mechanisms are still under the investigation [148].
CD44 and apoptosis of the cancer cells
CD44 plays an indispensable role in activating survival pathways that protect cancer cells from apoptosis. The role of CD44 in cell survival involves alteration of multiple molecules that regulate pre or anti-apoptotic processes. These included expression of Fas, caspase 3/9, Bcl-xl/Bak, phosphorylation of AKT, pRb, and upregulation of anti-apoptotic Bcl-2 [162–164]. CD44s, CD44v3-v10, and CD44v8-v10 transfected human colon cancer cell line promoted resistance to etoposide-induced apoptosis. Bcl-2and caspase-3 expression was elevated in both CD44s- and CD44v-transfected cells [162]. Knock-down of CD44 from colon cancer cells lead to reduced expression of anti-apoptotic molecules like Bcl-2, Bcl-xL and increased level of apoptotic molecules like Bax, caspase-3/8/9 [164]. AKT phosphorylation, p21, and pRb were downregulated in CD44-transfected cancer cells after anticancer reagent etoposide treatment. This suggests that expression of CD44 modulates cell cycle regulators pRb and p21, and the pro-survival protein AKT [162]. CD44 also contributes to cell survival via regulating Fas in lung cancer cells. HA binding to CD44 downregulated Fas expression and reduced Fas-mediated apoptosis [163].
CD44 expression was found enriched in CLL patients. Ligands-stimulated CD44 promoted CLL cells survival. siRNA-mediated CD44 knock-down CLL displayed dimished cell viability, even in AKT-overexpressing CLL cells, suggesting that CD44 was a key survival mediator. Targeted deletion of CD44 in murine leukemogenesis model decreased the tumor burden in peripheral blood and spleen, resulting in a prolonged overall survival. MCL1 level, anti-apoptotic downstream effector of CD44 in CLL, was remarkably reduced in CD44-deficient mice. CD44 regulated anti-apoptotic MCL1 expression via the ERK and AKT pathways [45].
HA binding to CD44-induced tyrosine phosphorylation and activation of FAK which associated with PI3K. CD44 expressing cells were significantly resistant to etoposide-induced apoptosis. Inhibition of FAK or PI3K canceled out CD44 anti-apoptotic effect [165]. HA-CD44 interaction activated ErbB2-containing signaling cascade including Hsp90, cdc37, p110, and p85 [166]. Therefore, CD44 may provide a protection mechanism for cancer cells from apoptosis.
Therapeutic strategies for targeting CD44
Targeted therapies are designed to block aberrantly activated signaling pathways in tumor cells specifically and are often tolerated better than conventional chemotherapies. CD44 may serve as a therapeutic target due to its role in regulating multiple survival signaling pathways and overexpressing CD44 is considered as a CSC marker. The major categories of CD44-targeted therapies include neutralizing antibodies, peptide mimetics, aptamers, pharmacological inhibitors, CD44 decoys, and HA oligomers. Some of the current approaches used to target CD44 are discussed below.
Conclusion
CD44 is upregulated in a variety of cancers and can be expressed in its standard isoform, CD44s, or as a number of alternatively spliced variant isoforms, CD44v. CD44 isoforms are overexpressed in many cancer types. Here, we discussed the current understanding of the structure and function role of CD44 in the pathogenesis of cancer.
CD44 mediates its effects on the cancer cell by activating signaling pathways including protein kinases, by activating transcription factors and by modulating the cytoskeletal architecture. The functional role of CD44 is pleiotropic, includes inducing EMT, altering the cellular cytoskeleton, by promoting drug resistance and through anti-apoptosis mechanisms. Proteomic and genomic approaches can identify the mechanisms by which CD44 promotes tumorigenicity. CD44 can act as co-receptors and/or stabilize receptor tyrosine kinase receptors causing tumor cell proliferation and invasion. CD44 cytoplasmic tail often binds to adaptor protein to initiate cytoskeletal changes and cell signaling pathways including MAPK, Hippo, β-catenin, AKT, TGF-β, Emmprin, MMPs, and STAT3. Expression of the CD44s isoform appears to contribute to EMT and tumor invasion. Multiple CD44v tends to play a role in epithelial phenotype, tumor initiation, growth, and are often associated with metastatic lesions. The functional roles of various CD44 isoforms on cancer development and progression remain an active area of investigation.
CD44 expression is regulated by multiple levels including transcription factors, epigenetic mechanism, microRNAs, and by post-translational modifications. ESRP1 is essential for promoting exon inclusion of CD44 isoforms and is required for expression of CD44v isoforms. The downregulation of ESRP1 accompanied with a switch from CD44 variants to CD44s isoform is associated with EMT. The switch of CD44 isoforms as how this relates to their functional roles in adaptive plasticity of tumor cells is becoming more clearly delineated.
A number of studies validate the potential of CD44 as a therapeutic target in various tumor types. Current therapeutic strategies include neutralizing antibody, peptide mimetics, aptamers, natural compounds that suppress CD44 expression, HA-directed targeting of bioconjugates and nanoparticles, HA oligomers, and CD44 decoys. These studies are in various stages of preclinical and clinical trials.
Abbreviations
ALDH1:

Aldehyde dehydrogenase-1
BPH:

Benign prostate hyperplasia
CAF:

Cancer-associated fibroblasts
CD44s:

CD44 standard
CD44v:

CD44 variants
CLL:

Chronic lymphocytic leukemia
c-MET:

c-MET receptor tyrosine kinase
CRC:

Colorectal cancer
CS:

Chondroitin sulfate
CSC:

Cancer stem cell(s)
CTC:

Circulating tumor cells
DOX:

Doxorubicin
EDA:

Fibronectin extra domain A
EMT:

Epithelial to mesenchymal transition
ERM:

Ezrin-Radixin-Moesin
ESRP:

Epithelial splicing regulatory protein
FAK:

Focal adhesion kinase
HA:

Hyaluronic acid
HAS1:

Hyaluronic synthases1
HGPIN:

High-grade prostatic intraepithelial neoplasia
HNSCC:

Head and neck squamous cell carcinoma
MAMCs:

Malignant-appearing microcalcifications
MD:

Mammographic density
MDR:

Multidrug resistance
MET:

Mesenchymal to epithelial transition
MMPs:

Matrix metalloproteinases
OPN:

Osteopontin
PCa:

Prostate cancer
PDAC:

Pancreatic ductal adenocarcinoma
PDGF:

Platelet-derived growth factor
PTX:

Paclitaxel
RHAMM:

Hyaluronic acid-mediated motility receptor
SCID:

Severe combined immune deficiency
SDF-1:

Stromal-derived factor 1α
VCAN:

Versican
VEGF:

Vascular endothelial growth factor
Declarations
Acknowledgements
This work was supported by grants from the William and Ella Owens Medical Research Foundation, VA Merit Award-510BX002962, Cancer Center Grant to CTRC and NIH-P30CA054174 (to J. W. Freeman). We thank Sue Simon, Medical Illustrator in Creative Media Services at UT Health San Antonio, for illustrating the figures.
Funding
1.

William and Ella Owens Medical Research Foundation (to J. W. Freeman).

2.

VA Merit Award-510BX002962 (to J. W. Freeman).

3.

Cancer Center Grant to CTRC and NIH-P30CA054174 (to J. W. Freeman).
Availability of data and materials
The material supporting the conclusion of this review has been included within the article.
Authors' contributions
JF was responsible for the conception and design of the manuscript. CC participated in drafting, review, and/or revision of the manuscript. SZ and AK participated in review and/or revision of the manuscript. All authors read and approved the final submitted manuscript.
Ethics approval and consent to participate
Not applicable.
Consent for publication
The costs of publication of this article were defrayed in part by the payment of page charges. This article must therefore be hereby marked advertisement in accordance with 18 U.S.C. Section 1734 solely to indicate this fact.
Competing interests
The authors declare that they have no competing interests.
Publisher's Note
Springer Nature remains neutral with regard to jurisdictional claims in published maps and institutional affiliations.
Open AccessThis article is distributed under the terms of the Creative Commons Attribution 4.0 International License (http://creativecommons.org/licenses/by/4.0/), which permits unrestricted use, distribution, and reproduction in any medium, provided you give appropriate credit to the original author(s) and the source, provide a link to the Creative Commons license, and indicate if changes were made. The Creative Commons Public Domain Dedication waiver (http://creativecommons.org/publicdomain/zero/1.0/) applies to the data made available in this article, unless otherwise stated.
Authors' Affiliations
(1)
Department of Cell Systems & Atanomy, University of Texas Health Science Center at San Antonio, San Antonio, USA
(2)
Department of Medicine, Division of Hematology and Oncology, University of Texas Health Science Center at San Antonio, San Antonio, USA
(3)
Research and Development, Audie Murphy Veterans Administration Hospital, San Antonio, USA
(4)
Mays Cancer Center, Experimental and Developmental Therapeutics Program, San Antonio, USA