Low expression of T-cell transcription factor BCL11b predicts inferior survival in adult standard risk T-cell acute lymphoblastic leukemia patients
Journal of Hematology & Oncology
2014
7:51
Received: 30 April 2014
Accepted: 1 July 2014
Published: 15 July 2014
Abstract
Background
Risk stratification, detection of minimal residual disease (MRD), and implementation of novel therapeutic agents have improved outcome in acute lymphoblastic leukemia (ALL), but survival of adult patients with T-cell acute lymphoblastic leukemia (T-ALL) remains unsatisfactory. Thus, novel molecular insights and therapeutic approaches are urgently needed.
Methods
We studied the impact of B-cell CLL/lymphoma 11b (BCL11b), a key regulator in normal T-cell development, in T-ALL patients enrolled into the German Multicenter Acute Lymphoblastic Leukemia Study Group trials (GMALL; n = 169). The mutational status (exon 4) of BCL11b was analyzed by Sanger sequencing and mRNA expression levels were determined by quantitative real-time PCR. In addition gene expression profiles generated on the Human Genome U133 Plus 2.0 Array (affymetrix) were used to investigate BCL11b low and high expressing T-ALL patients.
Results
We demonstrate that BCL11b is aberrantly expressed in T-ALL and gene expression profiles reveal an association of low BCL11b expression with up-regulation of immature markers. T-ALL patients characterized by low BCL11b expression exhibit an adverse prognosis [5-year overall survival (OS): low 35% (n = 40) vs. high 53% (n = 129), P = 0.02]. Within the standard risk group of thymic T-ALL (n = 102), low BCL11b expression identified patients with an unexpected poor outcome compared to those with high expression (5-year OS: 20%, n = 18 versus 62%, n = 84, P < 0.01). In addition, sequencing of exon 4 revealed a high mutation rate (14%) of BCL11b.
Conclusions
In summary, our data of a large adult T-ALL patient cohort show that low BCL11b expression was associated with poor prognosis; particularly in the standard risk group of thymic T-ALL. These findings can be utilized for improved risk prediction in a significant proportion of adult T-ALL patients, which carry a high risk of standard therapy failure despite a favorable immunophenotype.
Keywords
Adult T-cell acute lymphoblastic leukemia
BCL11b
Outcome
Standard risk
Expression
Mutation
Background
Improved treatment strategies, integrating risk stratification and minimal residual disease (MRD) monitoring, have improved survival of adult patients with acute lymphoblastic leukemia (ALL) over the last decades [[1],[2]]. Nevertheless, overall survival (OS) remains unsatisfactory with about 40-70%, depending on protocol and age group. Thus far, novel therapy approaches have mainly been developed in B-lineage ALL, where new targeted therapies with monoclonal antibodies like Rituximab or small molecule tyrosine kinase inhibitors (TKI) such as imatinib for Philadelphia chromosome/BCR-ABL-positive patients have been established [[3]–[6]]. In T-cell acute lymphoblastic leukemia (T-ALL), less progress has been made despite the introduction of nelarabine in relapsed and refractory disease [[7],[8]]. Other molecular driven approaches, including γ-secretase inhibitors, have until now been less successful [[9]].
In the German Multicenter Study Group for Adult ALL (GMALL), immunologic subtypes are routinely used as prognostic factors for the risk stratification of T-ALL. Within the high risk group of early T-ALL patients the recently identified subgroup of Early T-cell precursor (ETP-) ALL has been characterized by an immature immunophenotype with a high rate of FLT3-mutations, suggesting a potential role for TKI in the treatment for these high risk patients [[10]–[12]]. In contrast, T-ALL patients with a thymic phenotype have a more favorable prognosis [[1]] and are therefore classified as standard risk. Nevertheless, this large group (56% of adult T-ALL) [[3]] of standard risk T-ALL contains a molecularly and clinically heterogeneous group of patients. Thus, novel insights into the molecular stratification will further aid in refining treatment options.
The
B-cell CLL/lymphoma 11b
(
BCL11b
) gene, a Krüppel-like C
2
H
2
zinkfinger transcription factor located on chromosome 14q32.2, is a key player in physiologic T-cell development with potential impact on T-ALL leukemogenesis. In normal hematopoiesis, the onset of
BCL11b
expression in T-cell progenitors occurs during the onset of DN2 phase and is maintained throughout subsequent differential stages (Figure
1
) [[
13
],[
14
]]. For several target genes BCL11b acts as repressor (p21, p57), for others as activator of transcription (IL-2) [[
15
]–[
17
]].
In vitro
studies demonstrated that knockdown inhibited proliferation and led to apoptosis in human T-ALL cell lines [[
18
],[
19
]] and a chemo-protective effect of
BCL11b
overexpression was also observed [[
20
]].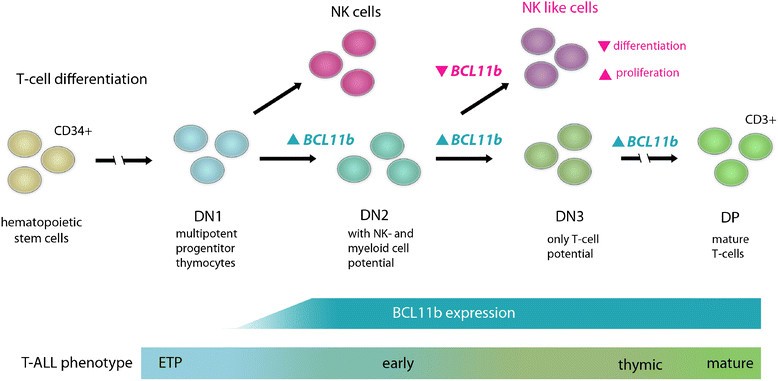 In addition, BCL11b is proposed to act as haploinsufficient tumor-suppressor, as its disruption was found to be associated with lymphomagenesis in mice [[21],[22]]. In humans, chromosomal translocations involving the BCL11b gene locus were identified in patients with acute myeloid leukemia (AML), T-ALL and T/myeloid acute bilineage leukemia [[23]–[28]]. Likewise, deletions and missense mutations, disrupting gene function, were reported in 9 to 16% of pediatric T-ALL patients [[29],[30]]. One study found BCL11b more frequently mutated in adult patients compared to children (20% vs. 5.3%) [[31]], with a lower mutation rate in early immature (3.6%) and a higher rate (12%) in cortical/mature adult T-ALL [[32]]. Studies on the prognostic impact of BCL11b mutations gave diverging results: a small study reported a favorable outcome for adult T-ALL patients with BCL11b mutations (n = 4) [[32]], however, studies in pediatric patients reported no prognostic effect of mutations [[29],[30]].
We hypothesized that deregulated expression of BCL11b, which is tightly regulated in normal T-cell differentiation, and BCL11b mutations play an important role in T-ALL. Therefore, we analyzed BCL11b mRNA expression levels in a large cohort of adult T-ALL patients and screened for mutations in the zinc finger region.
Discussion
During normal T-cell development, T-cell progenitors pass through separate differentiation stages and this process is tightly regulated by lineage specific transcription factors. While onset of GATA3 and TCF-1 expression characterize the early DN1 (ETP) phase in T-cell differentiation, BCL11b is expressed at the later DN2 stage [[39]]. As a gatekeeper of T-cell development, it is essential for the correct αβ T-cell development [[3],[40]]. Loss of BCL11b at various stages was shown to induce a natural killer cell-like phenotype with a differentiation arrest and was associated with a high proliferative potential [[14],[40]]. In addition, BCL11b is necessary for T-cell identity maintenance. Alteration of different stage-specific transcription factors and key regulators of T-cell differentiation by silencing, ectopic expression or mutations have shown to contribute in oncogenic transformation in T-ALL. For example, aberrant NOTCH1 signaling through activating mutations found in 50-60% of T-ALL cases [[41],[42]], is a prominent example of a potent driver event in T-cell leukemogenesis. For TAL1, which plays a key role in hematopoietic stem cell development, rearrangements and aberrant expression were found in T-ALL patients [[43]]. In this case, TAL1 expression was positively correlated with survival in pediatric patients [[44]]. Likewise for the homeobox transcription factor TXL-1 deregulation and gene locus abnormalities had been associated with improved outcome for TXL-1-high T-ALL patients [[45]]. Understanding of the molecular processes involved in T-ALL pathology offers the possibility to refine prognosis and stratify therapeutic algorithms.
For BCL11b aberrant expression levels, deletions and mutations have been reported in T-ALL [[29]–[32],[46],[47]]. Here we comprehensively investigated the implications of altered BCL11b expression and loss of function mutations in a large cohort of adult T-ALL patients (n = 169). While CD34+ hematopoietic progenitor cells and unselected BM samples of healthy donors lack BCL11b expression, T-ALL patients showed an aberrant and highly heterogonous BCL11b expression pattern. Similar to normal T-cell differentiation, the expression of BCL11b reflected the maturation stage in T-ALL and thus was significantly lower in the early compared to thymic and mature T-ALL subgroups (Figure 1, Additional file 1: Figure S1). Analysis of microarray expression data confirmed this observation revealing up-regulation of genes associated with an immature phenotype in BCL11b-low and an enrichment of markers of a mature T-cell phenotype in BCL11b-high T-ALL.
While the combined patient data suggested that BCL11b expression reflects the differentiation arrest of leukemic cells, expression was heterogeneously distributed and patients that lacked or had very low BCL11b expression were found in all immunophenotypic subgroups. This suggests that BCL11b is not just a mere marker of genetically more differentiated blasts, but may act as a maturation dependent tumor suppressor, which is supported in other studies [[29],[30],[47]]. If deregulated during differentiation, disruption of normal BCL11b function may contribute to malignant transformation.
In this study the cohort of uniformly treated adult T-ALL patients, the BCL11b-low subgroup had a significantly inferior OS compared to the BCL11b-high patients. In particular, in the standard risk group of thymic T-ALL, BCL11b was of relevant prognostic impact: 62% of BCL11b-high patients were alive after 5 years, whereas survival was only 20% at 5 years in the BCL11b-low subgroup. Remission duration was also significantly shorter for patients within the BCL11b- low subgroup. This contrasts a study in pediatric T-ALL patients, which showed that BCL11b expression had no impact on OS [[30]], although the difference may be due to the smaller sample size of the study and that patients were not classified into immunophenotypic subgroups. Nevertheless, low BCL11b expression was associated with chemotherapy induction failure in the same study.
While immunophenotypic classification of T-ALL has improved outcome prediction, a relevant percentage of patients classified as standard risk based on their thymic immunophenotype, fail conventional chemotherapy. As thymic T-ALL on the molecular and clinical levels compromises a highly heterogeneous cohort, it remains essential to identify patients with a high risk of relapse to adjust treatment stratification. Our results indicate that thymic BCL11b-low T-ALL patients represent a high risk subgroup which would benefit from intensified MRD monitoring and treatment stratification including allogeneic stem cell transplantation. Since lack of BCL11b expression proved to indicate inferior survival, we investigated disruption of the gene's function on the mutational level. BCL11b mutations in pediatric and adult patients had been reported in T-ALL in the zinc finger structures of exon 4 [[29],[30],[32],[46]]. In agreement with these studies, we discovered a high rate (14%) of BCL11b mutations in this large cohort of T-ALL patients. We found an association of immunophenotype and mutation frequency: only 2% mutational rate in early T-ALL patients and 19% mutational rate in thymic T-ALL patients. Our results support a recent study in which adult T-ALL patients characterized as "early/immature" had fewer BCL11b mutations [[32]]. The number of BCL11b mutations in thymic T-ALL samples in this report was low, limiting the statistical significance regarding outcome. Also, gene expression studies may be more sensitive to identify patients with the specific outcome-associated phenotype caused by BCL11b down-regulation.
Further studies are needed to fully understand the biological relevance of BCL11b mutations, and to explore potential directed therapies.
In summary, we identified BCL11b expression as a potent prognostic factor in the overall cohort and in particular in the standard risk subgroup of thymic T-ALL. These findings will help to identify patients with an enhanced risk of failure to standard therapy, however, standardized detection analyses of aberrant gene expression levels in a routine diagnostic setting remains challenging. More importantly, alterations in critical transcription factors contribute to leukemogenesis and may be regarded as ideal candidates for differentiation directed therapies in the future.
Abbreviations
ALL:

Acute lymphoblastic leukemia
AML:

Acute myeloid leukemia
BM:

Bone marrow
DN:

Double negative
ETP-ALL:

Early t-cell precursor ALL
GEP:

Gene expression profile
GSEA:

Gene set enrichment analysis
GMALL:

German multicenter acute lymphoblastic leukemia study group
MILE:

Microarrays innovations in leukemia
MRD:

Minimal residual disease
OS:

Overall survival
qRT-PCR:

Quantitative real-time polymerase chain reaction
T-ALL:

T-cell acute lymphoblastic leukemia
TKI:

Tyrosine kinase inhibitors
Authors' Affiliations
(1)
Department of Hematology and Oncology, Charité, University Hospital Berlin, Berlin, Germany
(2)
Department of Medicine II, Hematology/Oncology, Goethe University Hospital, Frankfurt/M, Germany
(3)
Department of Hematology, Oncology and Stem cell transplantation, Asklepios Klinik St. Georg, Asklepios Klinik St. Georg, Hamburg, Germany
(4)
Department of Hematology and Oncology, Klinikum Nürnberg, Nürnberg, Germany
(5)
Department of Hematology and Oncology, Klinikum Schwabing, München, Germany
(6)
Department for Internal Medicine III, University Hospital Regensburg, Regensburg, Germany
Copyright
© Bartram et al.; licensee BioMed Central Ltd. 2014
This article is published under license to BioMed Central Ltd. This is an Open Access article distributed under the terms of the Creative Commons Attribution License (http://creativecommons.org/licenses/by/4.0), which permits unrestricted use, distribution, and reproduction in any medium, provided the original work is properly credited. The Creative Commons Public Domain Dedication waiver (http://creativecommons.org/publicdomain/zero/1.0/) applies to the data made available in this article, unless otherwise stated.