Treating hematological malignancies with drugs inhibiting ribosome biogenesis: when and why
Journal of Hematology & Oncology
2018
11:75
Received: 16 February 2018
Accepted: 26 April 2018
Published: 31 May 2018
Abstract
It is well known that chemotherapy can cure only some cancers in advanced stage, mostly those with an intact p53 pathway. Hematological cancers such as lymphoma and certain forms of leukemia are paradigmatic examples of such scenario. Recent evidence indicates that the efficacy of many of the alkylating and intercalating agents, antimetabolites, topoisomerase, and kinase inhibitors used in cancer therapy is largely due to p53 stabilization and activation consequent to the inhibition of ribosome biogenesis. In this context, innovative drugs specifically hindering ribosome biogenesis showed preclinical activity and are currently in early clinical development in hematological malignancies. The mechanism of p53 stabilization after ribosome biogenesis inhibition is a multistep process, depending on specific factors that can be altered in tumor cells, which can affect the antitumor efficacy of ribosome biogenesis inhibitors (RiBi). In the present review, the basic mechanisms underlying the anticancer activity of RiBi are discussed based on the evidence deriving from available preclinical and clinical studies, with the purpose of defining when and why the treatment with drugs inhibiting ribosomal biogenesis could be highly effective in hematological malignancies.
Keywords
Ribosome biogenesis inhibitorsChemotherapyLymphomaLeukemiaRibosomal proteinsMDM2p53pRb
Background
The ribosome biogenesis is defined as the process of building new ribosomes, the intracellular organelles where protein synthesis takes place.
In recent years, several studies on the relationship between cell growth and proliferation produced important data regarding the mechanisms linking ribosome biogenesis, which is at the basis of cell growth, to the progression through the cell cycle phases of the proliferating cell. There is now evidence that a perturbed ribosome biogenesis activates a pathway leading to the stabilization and activation of the tumor suppressor protein p53, which in turn induces cell cycle arrest and/or apoptotic cell death [1–4].
Current evidence indicates that inhibition of ribosome biogenesis represents a major mechanism by which many of the currently used chemotherapeutic drugs (alkylating and intercalating agents, antimetabolites, topoisomerase inhibitors) exert their cytotoxic activity on cancer cells [5, 6]. Importantly, a series of new drugs selectively hindering the transcription of ribosomal (r) RNA, thus inhibiting ribosome biogenesis without having genotoxic effects, have been proposed as a new therapeutic approach, based on p53 activation [7–12].
However, it is known since long time that chemotherapy can cure only some cancers once they reach advanced stages. In fact, despite initial responses, the majority of metastatic solid tumors ultimately progress under chemotherapy treatment. Hematological malignancies (such as lymphomas and acute leukemias) represent paradigmatic examples of the few cancers that can be cured by chemotherapeutic agents and will be the main topic of the present review [13]. The basic biological characteristic underlying the intrinsic curability of such cancers is that, in a significant fraction of cases, they retain a functional p53-mediated response to nucleolar stress arising from ribosomal biogenesis inhibition; on the other hand, as a matter of fact, the presence of genomic alterations of the TP53 gene is an established negative prognostic predictor in lymphoma, acute and chronic leukemias treated with chemotherapy regimens [14–17].
Since p53 stabilization and activation is a multistep and tightly regulated process, in principle, the prerequisite for the antitumor efficacy of drugs inhibiting ribosome biogenesis should be the presence in the tumor cells, other than a normally functioning p53, also of those factors necessary for the activation of p53 and the induction of a p53-mediated cell cycle arrest and/or the apoptosis. These factors, which control cell cycle progression in normally proliferating cells [18], are qualitatively and quantitatively altered in the large number of cancers [19, 20], thus influencing the sensitivity to ribosome biogenesis (RiBi) inhibitors.
Therefore, it seems timely to critically review the characteristics of cancer cells which affect their sensitivity to RiBi inhibitors, with the purpose of highlighting those parameters which render the treatment with these drugs appropriate or not in hematological malignancies. For the convenience of the reader, the normal process of ribosome biogenesis will be first briefly described.
Ribosome biogenesis
Ribosomes are ribonucleoprotein particles which are located in the cytoplasm where, either free or membrane-bound, are engaged in protein synthesis. Four types of ribosomal RNA (rRNA) molecules and about 80 different ribosomal proteins constitute the ribosome. Ribosome formation occurs mainly in the nucleolus, being later completed in the nucleoplasm and in the cytoplasm (see for reviews: [21–24]). In the nucleolus, ribosomal genes are transcribed by RNA polymerase I (Pol I) to generate the 47S rRNA precursor, which undergoes to site-specific methylation and pseudo uridylation, and processing to give rise to the mature 18S, 5.8S, and 28S rRNA. The fourth types of rRNA, the 5S rRNA, is synthesized in the nucleoplasm by RNA polymerase III (Pol III) and then imported in the nucleolus together with the ribosomal proteins (RPs), whose mRNA is transcribed by RNA polymerase II (Pol II). The assembling of rRNA molecules with the RPs constitutes the two subunits of the mature ribosome, the large 60S and the small 40S subunit. The large 60S subunit is constituted by one each of the 28S, 5.8S, and 5S RNA molecules, together with 47 ribosomal proteins (RPLs); the small 40S subunit contains only one 18S RNA molecule and 33 ribosomal proteins (RPSs) [25, 26]. Both subunits migrate from the nucleolus to the cytoplasm where they form the 80S ribosome particle. In the process of ribosome biogenesis, more than 150 non-ribosomal proteins and around 70 small nucleolar RNAs are involved [27–32].
For the transcription of the of 47S pre-rRNA, the assembly of a specific multiprotein complex at the rDNA promoter containing Pol I is required. In this complex, three basal factors, termed transcription initiation factor I (TIF-I) A, selectivity factor 1 (SL1), and upstream binding factor (UBF), are present [33]. For the transcription of the 5S rRNA by Pol III, the transcription factors TFIIIC and TFIIIB are necessary [34–36]. In proliferating cells, the rate of ribosome biogenesis is enhanced in order to assure an adequate ribosome complement for the daughter cells and inhibition of ribosome biogenesis arrests cell cycle progression [37]. Furthermore, the rate of ribosome biogenesis influences the length of the cell cycle: higher the level of ribosome biogenesis, more rapid the cell cycle progression [38]. Ribosome biogenesis rate in cancer shows high variability, depending on a multiplicity of factors including the activation of specific intracellular signaling pathways and deregulated activity of oncogenes and tumor suppressors. On the other hand, quantitative and qualitative changes in ribosome biogenesis have been shown to facilitate neoplastic transformation. For a detailed description of the relationship between ribosome biogenesis and cancer, the reader should refer to [39–44]. In hematological malignancies, such as aggressive lymphoproliferative neoplasms, it is worth mentioning the oncogenic cooperation between the MYC oncogene and the phosphatidyl-inositol-3-kinase (PI3K) signaling pathway [45], which converge in stimulating rRNA synthesis and ribosome biogenesis [46].
Inhibition of ribosome biogenesis activates the RPs/MDM2/p53 pathway
Available data indicate that the levels of p53 expression and activity are mainly regulated by interactions with the tumor suppressor MDM2 (murine double minute 2, and HDM2 in humans). MDM2 is an E3 ubiquitin ligase which negatively controls p53 activity in two ways: by binding to the protein and inhibiting its transactivation activity, and by facilitating its proteasome degradation [
47
–
49
]. In normal proliferating cells, the level of p53 is maintained low because of the binding with MDM2 with consequent p53 ubiquitination and proteasome digestion [
50
]. When a perturbation in the ribosome biogenesis occurs (ribosome stress), it results in the binding of several ribosomal proteins, no longer used for ribosome building, to MDM2. This binding relieves the inhibitory activity of MDM2 toward p53 (see reviews [
2
–
4
,
51
,
52
]) (Fig.
1
). Although there is evidence that RPL5, RPL11, and RPL23 play a major role in neutralization of MDM2 activity and in the induction of p53 stabilization [
50
,
53
–
58
], the list of ribosomal proteins (of both large and small ribosomal subunit) able to inhibit MDM2 activity and to stabilize p53 upon "ribosomal stress" is rapidly expanding [
52
]. For a valid binding to MDM2 and its inactivation, the RPL11 and RPL5 must form a complex with the 5S rRNA and all the components of this complex are necessary for its inhibitory function [
59
,
60
]. p53 stabilization always causes cell cycle arrest in proliferating cells and, depending on the quantitative level of stabilized p53, also apoptotic cell death [
61
–
63
]. p53 arrests cell cycle progression by inhibiting the phosphorylation of the tumor suppressor retinoblastoma protein, pRb. In its hypo-phosphorylated form, pRb binds to and inhibits the activity of E2F1, a transcription factor whose target genes are necessary for cell cycle progression. The inhibition of E2F1 activity by hypo-phosphorylated pRb reduces the expression of both cyclin E and A, necessary factors for cell cycle progression from G1 to S phase and from G2 to M phase respectively, with consequent cell accumulation in G1 and G2 phase [
64
]. The induction of apoptotic cell death by p53 is a consequence of induced expression of the pro-apoptotic members of the B cell lymphoma 2 (Bcl-2) gene family, PUMA, and BAX [
63
,
65
–
67
] (Fig.
1
). Finally, it should be noted that additional factors may interact with the RPs/MDM2/p53 axis, such as the ARF tumor suppressor and the activation of the PI3K pathway. In fact, ARF loss is a common genetic event in cancer and especially in aggressive lymphoid neoplasms, resulting in increased MDM2 activity and increased p53 degradation (reviewed in [
68
]). On the other hand, MDM2 is a downstream target of the PI3K-AKT axis, and AKT-induced MDM2 phosphorylation results in increased stability of MDM2 with consequent p53 degradation [
69
,
70
]. As mentioned before, constitutive PI3K signaling is common in lymphoproliferative neoplasms, and PI3K inhibitors are in clinical development in lymphoid cancers. These notions could be relevant for designing therapeutic combination strategies aimed at increasing the p53-mediated response to the inhibition of ribosome biogenesis.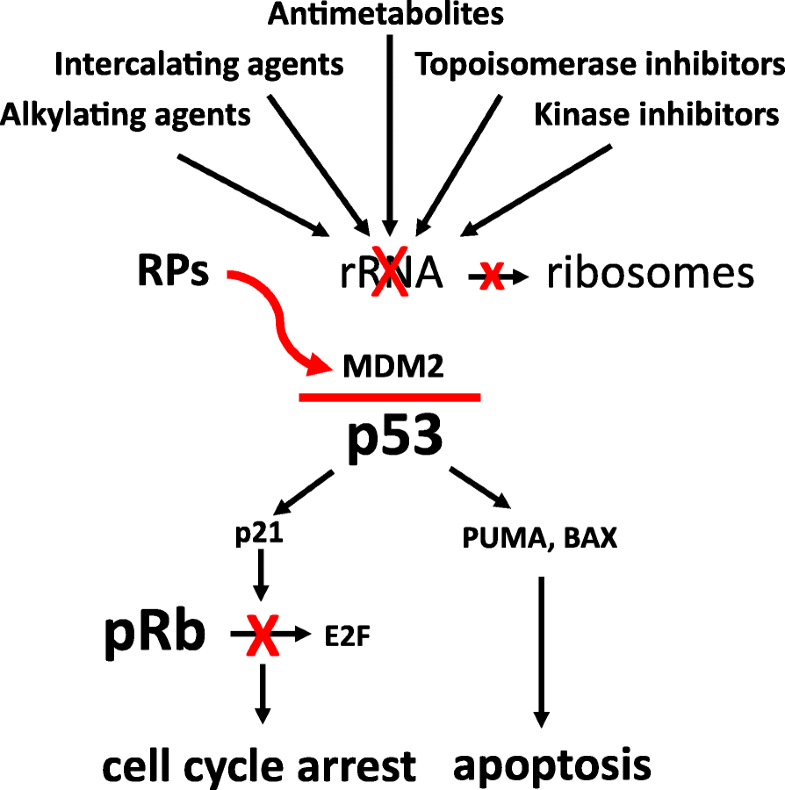 Development of selective inhibitors of ribosome biogenesis
As briefly mentioned before, a strong contribution to p53 activation induced by chemotherapeutic agents is due to the inhibition of ribosomal biogenesis. As reported by Burger et al. [
5
], a series of drugs currently used for treating solid cancers and hematological malignancies inhibit ribosome biogenesis at the level of rRNA transcription and/or at the level of rRNA processing (Table
1
). To this list, cyclophosphamide and mycophenolic acid should be added. Cyclophosphamide, a widely used anticancer drug, also inhibits rRNA transcription [
71
], after being converted to acrolein [
72
,
73
], and the immunosuppressant mycophenolic acid has been demonstrated to inhibit the synthesis of rRNA [
74
].
Table 1
Drugs used to treat hematological and solid malignancies which are effective or highly effective in the inhibition of rRNA transcription or processing (modified from Burger et al., 2010) [5]
inibition of rRNA synthesis

transcription

processing

Alkylating agents:

 Melphalan*

+

-

 Cisplatin*

+

-

 Oxaliplatin*

+

-

 Cyclophosphamide 1 *

+

-

Intercalating agents:

 Doxorubicin *

+

-

 Mitoxantrone *

+

-

 Actinomycin D *

+

-

 Mitomycin C

+

-

Antimetabolites:

 Methotrexate *

+

-

 5-Fluorouracil

-

+

 Topoisomerase inhibitors:

 Camptothecin

-

+

 Etoposide*

-

+

Kinase inhibitors:

 Flavopiridol*

-

+

 Roscovitine

-

+

 Rapamycin

+

-

Proteasome inhibitors:

 Bortezomib*

-

+

Translation inhibitors:

 Homoharringtonine*

-

+

Mitosis inhibitors:

 Vinblastine*

-

+

rRNA polymerase I inhibitors:

 CX-5461 2 *

+

-
In recent years, several efforts have been made to develop specific inhibitors of ribosomal biogenesis, in order to achieve a selective inhibition of rRNA synthesis without the genotoxic effects proper of chemotherapeutic drugs. In this light, it appears to be of particular relevance the CX-5461 molecule which selectively inhibits ribosome biogenesis, most likely by disrupting the SL-1/rDNA complex, promoting a cancer-specific activation of p53. Recent preclinical data indicate high activity of CX-5461 in MYC-driven lymphoma, providing the rationale for further clinical development of this compound [7, 75, 76]. CX-5361 is currently under phase I clinical trial for the treatment of patients with advanced hematologic malignancies, including acute myeloid leukemia.
Finally, there is experimental evidence that a small molecular compound, BMH-21, and a small-molecule peptide (22mer) also selectively inhibit rDNA transcription. BMH21 binds to GC-rich sequences and inhibits RNA Pol I activity [9]. It also induces the proteasome-dependent destruction of the large catalytic subunit in the Pol I complex, as do three other small molecular compounds, BMH-9, BMH-22, and BMH-23 [10]. The 22mer targets the interface between RNA polymerase I and Rrn3, thus selectively inhibiting the synthesis of rRNA [11].
Factors determining cancer cell sensitivity to drugs inhibiting ribosome biogenesis
Conclusions
Despite the advent of personalized medicine, current treatment algorithms do not take into account important biological parameters which have been demonstrated to affect the cancer response to chemotherapeutic agents (these factors are summarized in Table
2
) [
14
–
16
,
91
,
92
,
94
,
103
,
108
,
110
,
111
,
118
,
146
–
161
]. There is now evidence that the efficacy of many of the chemotherapeutic drugs used for cancer treatment is related to p53 stabilization consequent to ribosome biogenesis inhibition (Fig.
1
), and efforts are ongoing to develop new drugs that can selectively target ribosome biogenesis, without having the genotoxic effects proper of standard chemotherapeutic agents. In this context, it is worth mentioning the selective inhibitor of rRNA transcription, the CX-5461 molecule [
7
,
75
], which may represent a new, very interesting strategy for cancer therapy [
12
,
162
–
164
]. In this research field, other molecular compounds specifically hindering rDNA transcription have been proposed, demonstrating the increasing interest in this new therapeutic approach [
9
–
11
,
165
]. On the other hand, as reported in the present review, a series of experimental and clinical data indicate that human tumors are characterized by several genomic alterations determining a highly variable response to the treatment with ribosome biogenesis inhibitors. In fact, several mechanisms converge in attenuating the anticancer activity of ribosome biogenesis inhibitors, mostly by reducing the amount of stabilized p53 and/or the extent of apoptotic responses to RIBi inhibitor-dependent nucleolar stress (Table
2
). Accurate knowledge of these mechanisms could provide the rationale for treatment strategies able to by-pass resistance to RIBi inhibitors, such as combinations with MDM2 inhibitors or small molecule inhibitors of phosphatidyl-inositol-3-kinase (PI3K) pathway or antiapoptotic proteins such as bcl-2. The main characteristics influencing the response of hematologic malignancies to drugs inhibiting ribosome biogenesis are summarized in Fig.
2
. These characteristics should be considered and evaluated in advance, in order to predict the degree of therapeutic response, especially when using selective inhibitors of ribosome biogenesis.
Table 2
Overview of genomic alterations involved in the regulation of the RP/MDM2/p53 axis in hematologic malignancies
Genomic alteration

Disease type

Incidence of the alteration

Prognostic impact

Proposed Mechanism

Reference

TP53 mutation

DLBCL

22%-24%

Poor

Impaired p53 mediated response to nucleolar stress

CLL

7-9%

Poor

ALCL

8%

Poor

[145]

ALL

14-15%

Poor

AML

5%-9%

Poor

MM

<5%

Poor

[152]

TP53 deletion

DLBCL

12%

Poor

[16]

CLL

5-12%

Poor

ALL

11%

Poor

[15]

MM

9.5%

Poor

[152]

ARF deletion

DLBCL

35%

Poor

Increased MDM2-dependent p53 degradation

[153]

FL

8%

Poor

[154]

ALL

14-15%

Poor

RB1 loss

DLBCL

11%

Neutral

Loss of G1/S checkpoint

[156]

CLL

20%

Neutral

[157]

ALCL

40%

Good

[103]

ALL

9%

Neutral

RPS15 mutation

CLL

19% (RELAPSE)

Poor

Impaired p53 mediated response to nucleolar stress

[118]

RPL5 mutation

MM

Sporadic

NE

[111]

T-ALL

<5%

NE

[108]

RPL5 deletion

MM

20%

Poor

[110]

RPL10 mutation

T-ALL

5%

NE

[108]

RPL22 deletion

T-ALL

10%

NE

[160]

NPM1 mutation

AML

53%

Good*

Increased sensitivity to nucleolar stress

[91]

NPM1-ALK

ALCL

55%

Good

[161]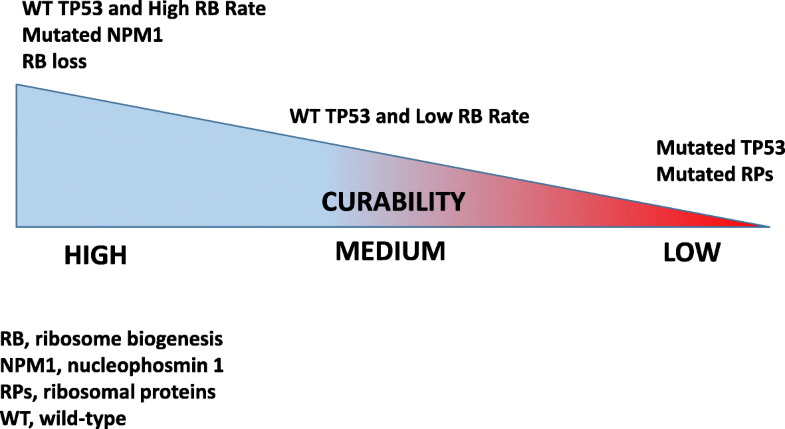 Abbreviations
ABVD:

Doxorubicin, bleomycin, vinblastine, and dacarbazine
ALCL:

Anaplastic large cell lymphoma
ALK:

Anaplastic lymphoma kinase
ALL:

Acute lymphoblastic leukemia
BAX:

Bcl-2-associated X protein
Bcl-2:

B cell lymphoma 2
CHOP:

Cyclophosphamide, doxorubicin, vincristine, and prednisone
DLBCL:

Diffuse large B cell lymphoma
DRB:

Dichloro-ribofuranosylbenzimidazole
FCR:

Fludarabine, cyclophosphamide, rituximab
HL:

Hodgkin lymphoma
JNK:

c-Jun N-terminal kinase
MDM2:

Murine double minute 2
NPM1:

Nucleophosmin
Pol I:

RNA polymerase I
Pol II:

RNA polymerase II
Pol III:

RNA polymerase III
pRb:

Retinoblastoma protein
PUMA:

P53 upregulated modulator of apoptosis
R:

Rituximab
RiBi:

Ribosome biogenesis
RPLs:

Ribosomal proteins of the large subunit
RPs:

Ribosomal proteins
RPSs:

Ribosomal proteins of the small subunit
SL1:

Selectivity factor 1
TIF-I:

Transcription initiation factor I
TP53:

Tumor protein 53
UBF:

Upstream binding factor
Declarations
Funding
This work was supported by the Roberto and Cornelia Pallotti Legacy for Cancer Research.
Availability of data and materials
Data sharing is not applicable to this article as no datasets were generated or analyzed during the current study.
Authors' contributions
ED conceived the structure of the review and wrote the manuscript; AL helped with the manuscript writing; DT conceived the structure of the review and wrote the manuscript. All authors read and approved the final manuscript.
Ethics approval and consent to participate
Not applicable
Competing interests
The authors declare that they have no competing interests.
Publisher's Note
Springer Nature remains neutral with regard to jurisdictional claims in published maps and institutional affiliations.
Open AccessThis article is distributed under the terms of the Creative Commons Attribution 4.0 International License (http://creativecommons.org/licenses/by/4.0/), which permits unrestricted use, distribution, and reproduction in any medium, provided you give appropriate credit to the original author(s) and the source, provide a link to the Creative Commons license, and indicate if changes were made. The Creative Commons Public Domain Dedication waiver (http://creativecommons.org/publicdomain/zero/1.0/) applies to the data made available in this article, unless otherwise stated.
Authors' Affiliations
(1)
European Institute of Oncology, Milan, Italy
(2)
DIMES, Università di Bologna, Bologna, Italy